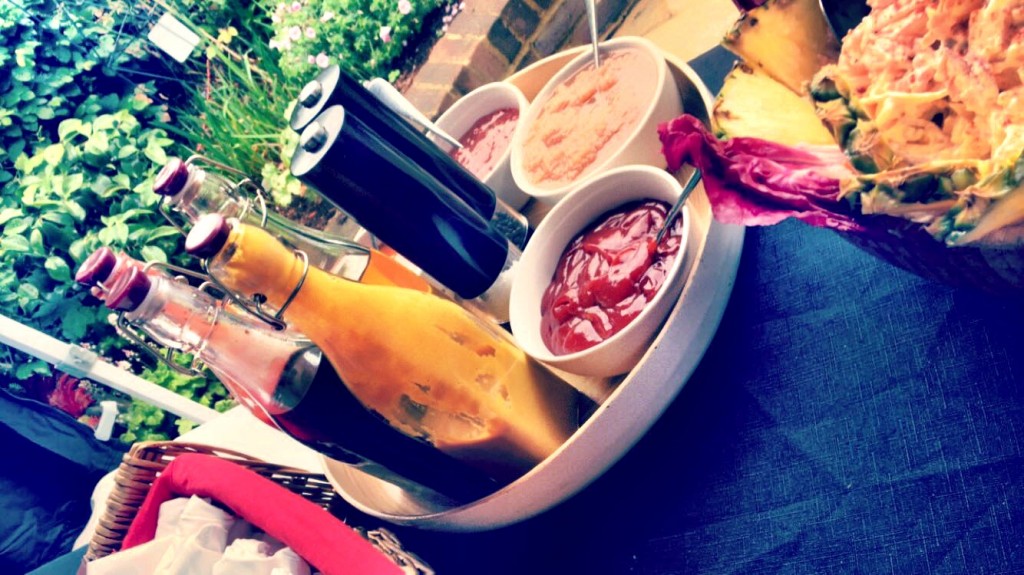 Being locals ourselves, we know how much Somerset folk love their food and especially warming comfort food like a scrumptious hog roast cooked slowly but surely for hours from scratch. We've offered this kind of a catering service for many years now and not just in this county but all over the UK. Here at The Spitting Pig Somerset, we are renowned for service with a smile, a professional attitude and, of course, our delicious food. But despite our name and despite being famous for providing our customers and their guests with amazing hog roasts, we do actually offer much more than you may think…
We often spit-roast meat for parties and events, too, so whether you fancy chicken or turkey or you've got your heart set on a joint of lamb or beef, we can produce tasty alternatives to a hog roast. But our possibilities don't just stop there! In addition to our hog roast machines being capable of spit-roasting meat, we also have barbecue attachments so that we can cook you our own 100% beef burgers and handmade gourmet sausages, some vegetable skewers or even fish if you prefer. We can also serve several courses at any event, whether it's formal or informal. Then there's also a great variety of dishes that we can provide for any of your guests who have dietary requirements or intolerances, like a gluten-free, vegetarian or vegan diet. Even if you don't or can't eat our meat, we ensure to offer plenty of other options because we want all of our guests to feel welcome and satisfied with both our Hog Roast Somerton service and culinary offerings.
The menus that you can see online from Hog Roast Somerton are indicative of what we can provide for your event or party but you are always welcome to adapt them or combine them to your own wants or needs. We even often help customers to create their own menu, with wedding reception meals in particular, where the bride and groom-to-be have a clear picture of what the food on their big day will look like but we are more than happy to assist you with this for any occasion that you have in mind.
Catering Designed To Please Everyone!
From Somerton to Langport and surrounding counties, as well as across the length and breadth of the UK, we always keep in mind the main goal of feeding you and your guests tasty, high-quality and yet affordable food. As part of that service, you'll find that our staff are professional, friendly and knowledgeable, from the sales team member who first answers your query to the chef who prepares, cooks and serves your food on the day itself. We have catered all kinds of wonderful events in Somerset over the years, from birthday parties to engagements, christenings to corporate functions, both formal and informal. You may be planning a small celebration in your own back garden in Minehead where you only need one of our chefs to cater or perhaps a huge corporate event in Glastonbury with several hundred guests, where we can supply catering assistants and waiting staff as well as a chef (or even more than one). We enjoy and can manage either scenario.
It's clear that in these modern times, a hog or spit roast is suitable for any kind of celebration or commemoration and for any number of guests. The Spitting Pig Somerset team also makes sure to offer options for every budget and that we can cater in just about any location. From a beach barbecue to a garden party, or a music festival to remote farmland, our hog roast machines are easy to transport and run off gas bottles, so we don't need mains electric to operate them. With advance notice, there's no reason why we can't cater anywhere that you may have in mind.
Passion Shown Through Our Food
When we arrive at your venue on the day of the event to cook you a hog or spit roast, it's with fresh, local meat that we prepare from raw, and then we slowly roast it until golden brown and crispy on the outside and soft and moist on the inside. We're passionate about freshness and quality and not just with the meat, but also with everything from our homemade options to the veggies or salad that we prepare fresh before serving.
If you're planning a social occasion and want fantastic food at a fair price, get in touch with our Hog Roast Somerton sales team for a quote!