We love catering events and parties but we also rent out our equipment to budding Somerset chefs who prefer to be more hands-on. Our Hog Roast Hire Somerset service includes a delivery and collection service so you can prepare, cook and then serve your own hog or spit roast to your guests at the venue of your choice once we've dropped it off and talked you through the basics. If you've already tried the wonder of a hog roast itself, with scrumptious meat falling off the bone and melting in your mouth, and delicious, salty crackling crunching between your teeth, it's likely that you will want to cook one yourself to impress your friends, family or other guests. Once the meat has been prepped, our machine does all the work for you but you can take all the glory!
We've hired out plenty of our fantastic, hand-built hog roast machines all over Somerset, from Glastonbury to Cheddar and beyond, to both domestic and professional caterers. If you have your own catering company, offering hog or spit roasts is a great way to attract more customers or impress your repeat ones. We actually rent our machines out all over the UK, so if you live somewhere outside of Somerset or in the county but somewhere a bit more remote, with enough notice there's no reason why we can't provide you with the same service. When we drop the hog roast machine off at your chosen venue, we don't just leave you to it. Despite the fact that our machines are really easy to use, we want you to be confident in using one before we disappear, so we talk you through everything and then also leave you with instructions. To be honest, our machines are so simple to use that you just turn it on, set the temperature and that's that – one hog cooking away. All you need to do then is periodically check that it's cooking throughout and voila – a few hours later and you have some delicious meat to serve your hungry guests.
Once Complicated Catering, Now Made Easy!
We have many years of experience between us, so you'll be in good hands when it comes to our staff and their words of wisdom to help you with your task of being a pro chef for the day. With our guidance, you can easily make all kinds of delicious food for whatever kind of event you're planning in Somerset. From a huge corporate event in Frome to a back garden birthday do in Burnham on Sea, whether you have a handful of guests or several hundred, you can make a great impression with your own centrepiece hog roast, a dozen turkeys roasting till golden brown or a heap of sizzling sausages and burgers. Hog Roast Hire Somerset is cheaper than you may think, as we have reasonable prices and different types of machines depending on the size of your party. We can even provide the meat if needed, as we have trusted local butchers and farmers who supply the meat that we use when catering ourselves.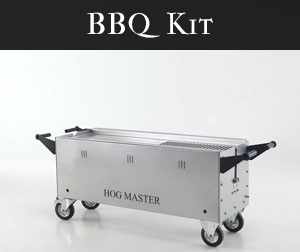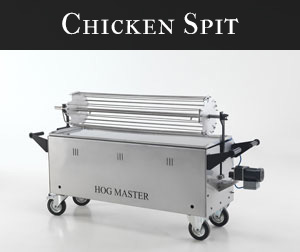 Of course, you may prefer to spit-roast or barbecue with one of our hog roast machines and we can walk you through that too. We have attachments for our machines so that you can easily spit-roast or barbecue if preferred (or in addition to cooking a hog roast, if you rent a machine for longer). Some of our customers hire a machine to cook a chicken, turkey or a joint of lamb or beef (or perhaps something more adventurous) and we'll happily give you advice on that too. A Spitting Pig hog roast machine actually works like a conventional oven, so you can use it to cook an entire meal in one go; your choice of vegetables and potatoes can be cooking away inside while the meat roasts to perfection above, so you could even hire from us to do this if you prefer. There's much more to our machines than using them to just roast hogs, though you will produce an amazing meal if you choose to do so anyway.
In the past, a hog or spit roast was an extravagance and an expensive one at that but today, it's suitable for any kind of occasion and a truly economical way to feed your guests. Call us today for a quote and you'll see just what we mean.