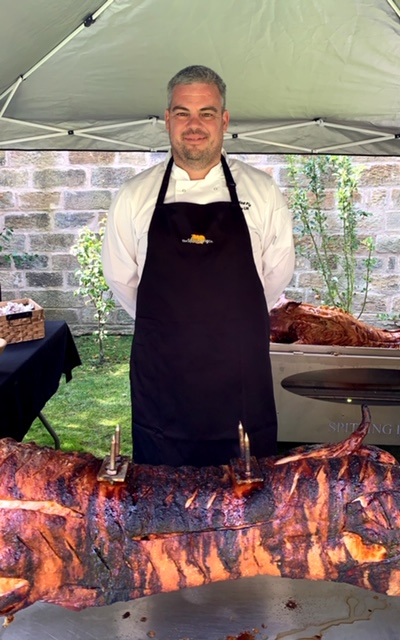 Wherever in Somerset you are located, and wherever you're planning an event or party in the county, then Spitting Pig Somerset is the answer to your catering prayers. For both personal parties and corporate functions, whether an intimate gathering or a huge event with hundreds of guests, we can help make your special occasion a great success with fabulous food and a top-class, professional service. However, we are not only hog roast caterers, as we can provide just about any other food that you can imagine, and we also rent out and sell the equipment that we design, build and use ourselves too…
A Complete Dining Experience
Contrary to our brand name, we are a catering company with variety in mind, so if you are planning a social occasion, we can provide pretty much anything your heart desires. You may be organising your upcoming marriage and need Hog Roast Frome and you want your wedding reception to feature formal dining options, with several courses and waiters greeting your guests with canapés and champagne; we have vast experience of doing just that. Or perhaps you're planning an informal birthday party at home and have to call upon Hog Roast Minehead, with hog roast rolls for a handful of guests; we also have lots of experience at this end of the scale too. Whatever your budget, party size or culinary wants, our dedicated staff will attend to your every need with the same high level of service, and of course with tasty food that you and your guests will never forget.
Hog Roast Somerset is well known for quality food at an affordable price, and because we use only excellent ingredients, it tastes amazing too. From the meat that we source always from local, trusted suppliers right down to our homemade apple sauce, we ensure that all of our food is of the best quality and you'll be able to taste the difference when you dig in. We're passionate about freshness, too, and that's why you'll see us preparing the meat itself from scratch at your venue, hours ahead of service, and then cooking it to perfection and serving it at the optimum time, just after it's rested a short while. We slice off the delicious crackling and slice into the tender pork that's been sizzling away in its own juices for several hours and then it's straight onto your plate and into your belly.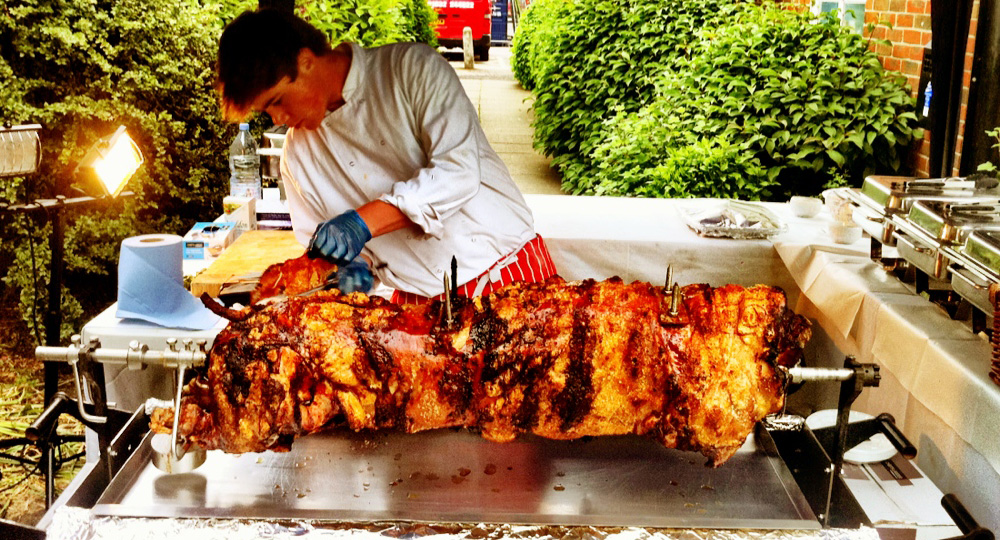 We also make sure that all our other food is fresh on the day too, whether that's salad leaves or our homemade menu options. For those guests who can't or prefer not to eat a hog or spit roast, perhaps due to dietary requirements or health issues, we have so many choices and as long as we have advance notice, we can accommodate any such needs. We specialise in hog and spit roasts, of course, but we are also committed to offering so much more. We've been providing alternatives for many years now, including vegetarian, vegan and gluten-free options, and that's because all of our guests are important to us and we want all of our guests to enjoy our food. Whether it's making peppers stuffed with rice or ensuring we have gluten-free bread rolls available, we go the extra mile so that you and your guests are all satisfied.
In terms of your Somerset venue, we can cater in just about any location you have in mind, whether that's in the countryside or on the beach, in a boutique hotel or in your own back garden. Our hog roast machines are powered by gas and easily manoeuvred, so we can take them just about anywhere you need. Recently we catered a lovely engagement party with the fantastic Hog Roast Langport team and then the Hog Roast Cheddar team attended a fun fancy dress party. We often cover all kinds of other events, including school fêtes, hen parties, corporate functions and more. A hog or spit roast is suitable for any kind of social occasion these days, for any number of guests, and it's within reach of everyone's budget too. It can be a really economical way to feed your guests, cheaper than you may have originally thought.
An Effortless Service For You
From your first contact with us to the event day itself, we'll make sure that you have everything you need to make your party go with a bang. Plus our friendly, talented chefs will prepare, cook and serve your guests some of the tastiest food you'll have ever tried.
If you need a Somerset caterer in the near future, we're waiting for your call but please feel free to also get in touch if you're thinking of having a DIY event with one of our machine rentals. Either way, Spitting Pig Somerset is the catering answer you've been looking for.