There's nothing quite like tasty food at a good party, and that's never more true than with a hog roast in Taunton at your party. Hog roasts are the optimum in party catering, there is no worthy rival to a Spitting Pig hog roast, that's why when it comes to catering at parties the name on everybody's tongue is Spitting Pig Somerset, because your taste buds know our hog roasts are the very best there are.
See a list of our sample menus below
If you're one of many in Somerset that are planning a party for this year or next, and you're on the hunt for catering that's without competition when it comes to great taste and entertainment then you're in appropriate company with Spitting Pig. We're leaders in Somerset for our hog roasts in town, trail-blazing through the scene with delectably great hog roasts and spit roasts. That's why if you're in Somerset and are weighing up your options for party catering you don't have to look any further than a hog roast in Minehead by Spitting Pig. Hog roast catering by us is truly peerless, we have impeccable hog roast chefs and envied hog roast machines to our name, and with our trademark professionalism, not to mention enthusiasm, the service that we offer is at the highest level, always.
It should come as no great shock to learn then that our hog roast in Bath is in popular demand more than it's ever been in the past, as word has gotten out over the years that if you need catering for an event we're the caterers for the job. We're able to empathise with the needs and goals of each individual customer, seeing clearly what it is you want, and going as far as exceeding every expectation you had. Now more than ever people have higher standards than they've ever done, good food and local produce is the order of the day, and we'll see your standards are met, without exception. Finding a caterer who understands what you need can be a hard task, but it doesn't need to be, if you choose a hog roast in Weston Super Mare from Spitting Pig we'll mould our services to your specific party requirements.
A hog roast is a magical way to feed guests at a party, a hog roast and a good party go together like bread and butter. You only have to take a quick look at your history books (Wikipedia will do…) to see that the relationship between social gatherings – particularly parties – and hog roasting has been going strong for millennia, that alone should tell you all that you need to know about hog roasts in Shepton Mallet being ideally suited to your party.
There's no competition to watching a hog roast in motion at a party event, and knowing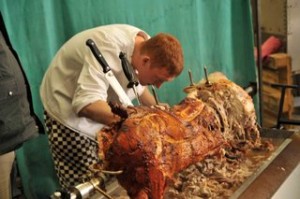 that in a few hours you'll be sharing a juicy, flavour-packed hog with all of its trimmings, with your family members and friends. The only thing that comes close to watching us roasting behemoth-sized hogs at your party is if you were to hire a machine by itself so that you were doing the hog roast instead of us, and you have that option with Spitting Pig Somerset too. For both catering and machine hire we're the best company for you, our services are unquestionably good, so good in fact that we've been voted one of the most high quality caterers in Somerset for 2 years on the trot and we aren't giving up our throne any time soon. When Spitting Pig Somerset are booked for an event we always make it nth times better than it would be if we weren't catering at the party.
We aren't happy unless we're giving customers the best hog roast service possible, and that's always been the case. We have a real hunger for what we do, and that's apparent when you realise that we craft our own hog roast machines, such is our passion. They're optimised for maximum output and they look so much better and more modern than what other companies have, because they've been designed professionally and we've invested bucket loads of money into our hog roast production line. And that's why our hog roasts are liable to leave your guests with a seriously strained neck, because they won't be able to resist turning their heads every few minutes to lay their eyes on the theatrically brilliant hog roasting.
The added value to a party that comes with a hog roast in Clevedon is unquestionable, it's as much a show piece and topic of conversation for your guests and will put people in the party spirit.
We're quite regularly asked by people if pig is all that we can cook for a party roast, and the great news is that it isn't. A spit roasted pig is just the beginning of the wonderfully tasty foods we make. We're also more than capable of cooking anything from chickens to strip loins of prime beef – and we cook them all beautifully, every time. Actually you'd be surprised, because we can even spit roast potatoes and often do for parties such as bonfire night or Halloween, or for a summer barbecue party we often spit a few potatoes. With the attachments for our hog roast machines we can spit roast pretty much anything, so long as it's of an appropriate size. We're often booked to cook game and plenty of exotic meats – only the legal kind – for a hog roast in Glastonbury party.
It's our belief that food has gone beyond just being about surviving day to day, it's as much as social interaction and pleasure than it ever has been in the past, and for us there's nothing more suitable than a pleasurable hog roast at a party event, which is social interaction and fun at its very best. Why not book a hog roast for your party and find out why everyone else has been raving about Spitting Pig
Back To Menus