Christenings are a wonderful time to gather as a family and watch a beautiful ceremony. Once the ceremony has taken place, it is common to host a reception with a delicious meal for your guests to enjoy. Whatever style of meal you choose to host, Hog Roast Ledbury have the perfect menu for you! We recently catered for an event in Ledbury, and this is the menu that we provided…
At the beginning of October, our Hog Roast Ledbury catering manager was contacted about providing a menu for a christening, taking place at Saycells Farm. The catering needed to be a suitable menu for 50 guests, with a vegetarian and a gluten-free dish. After a discussion with his client, Alistair prepared to provide our Classic Hog Roast menu, since it is a versatile and delicious option.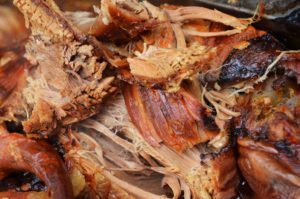 For the menu, we began by preparing our classic hog roast, ensuring that it roasted slowly for 5 hours. Once cooked, the meat was carved by our expert Hog Roast Ledbury chef and served in fresh bread rolls, including a gluten-free alternative. For meat-free guests, we prepared grilled vegetable and halloumi skewers. The catering was served on china crockery and cutlery, creating a formal feel for the simplistic yet delicious menu.
Following the main course, the guests enjoy a tea and coffee service and delicious cake provided by our client. Hog Roast Ledbury provided the cutlery and crockery for the dessert, serving the dish tableside to the guests. This was a great way to end the catering and was just right for the event.
For the event, we also provided a comprehensive glassware hire. This included 40 champagne glasses, wine glasses, water glasses, and 6 water jugs. This was a big help for the family and helped to add ease to the event planning.
Are you looking for catering for your Christening this winter? If so, get in touch with Hog Roast Ledbury today to book your date. Simply let us know your party size and location and we can get to work creating your ideal catering package. We hope to hear from you soon!