The brains behind turning an interesting network of local caverns into a major tourist attraction with guided tours, had another amazing idea last week when they called Hog Roast Minehead and asked us to come along to provide some great outdoor grub for their Saturday tour group after completing their subterranean voyage! As the caverns are quite remote, they have minimal catering facilities there at the moment and they felt this was starting to become an issue. As we are known for our ability to transport our magnificent mobile kitchen anywhere, they thought of us straight away!
The food was to be included in the ticket price and a way of getting a few more people interested in taking a trip down below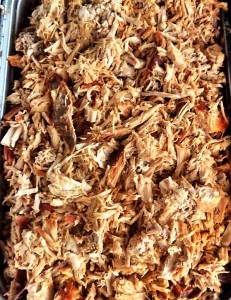 to marvel at the stalactites, underground pools and wacky rock formations, with detailed explanations every step of the way by one of the centre's qualified tour guides. When everyone resurfaced they were to be greeted by the Hog Roast Minehead team and one of our awesome outdoor buffets, including our classic slow-roasted pork, an array of side salads, veggie skewers as a meat-free option and potato wedges. All of which, we were more than capable of freshly preparing to high standard at the mouth of a cave!
The tours last an hour and our hosts wanted the food to be served immediately upon the group exiting the caverns, so timing was of the upmost importance. As we always plan everything with military precision, we assured our hosts we would be ready bang on time and indeed we were! As the group started to emerge, blinking in what felt like incredibly bright sunlight after being in the gloomy bowels of the caverns for the last hour, the pork was carved, the veggie skewers were sizzling, and the side orders were presented beautifully on our serving table! It didn't take the group long to get their bearings again as soon as they saw the food! Lured by the smell of the pork, they all advanced rapidly on our serving table and were soon tucking in to their heart's content! Everyone agreed it was an interesting excursion, but they were all glad be back on the surface enjoying Hog Roast Minehead's fab food!