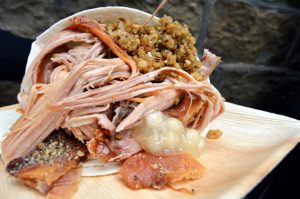 The majestic medieval town of Sherborne is full of lovely locations for hosting an event or celebrating a special occasion with family and friends. If you want to benefit from everything the town has to offer whilst also being able to enjoy the top-quality food that you want for your event, hiring the Hog Roast Sherborne team is the answer.
Our vast experience in mobile event catering and our hog roasting expertise makes us the front runners in hog roast catering services in the Sherborne area. We have the edge when it comes to slow roasted pork because we never compromise on the quality of our meat or our preparation methods. We only ever source our pork from ethical producers and our skilled chefs have the knowledge and ability to ensure it is cooked to perfection every time.
As well as supplying the finest hog roasts in Sherborne, we are also able to provide creative and contemporary menus that suit a wide range of events, budgets, tastes and dietary requirements.
Hog Roast Sherborne Is Perfect For Any Gathering!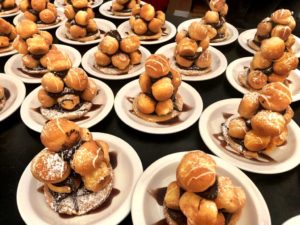 Hog Roast Sherborne's food is ideal for an array of occasions including local arts and culture festivals, wedding receptions, private parties and corporate entertaining, and many other types of events. We are able to cater for such a wide range of events thanks to the scope of our menus and the versatility of our talented team.
Our buffet and more formal 3 course meal menus incorporate a range of different slow roasted meats, such as beef, lamb and chicken, as well as our own modern interpretation of barbecue classics, plus a whole host of vegetarian, vegan and gluten-free alternatives. Which ever one of our delicious menus you choose, all of the dishes will be made from scratch at your venue using locally sourced ingredients that are just as high in quality as our signature pork.
If you would prefer a more traditional sit-down meal to a buffet for a special occasion, we are also able to bring along our own professional events team to provide efficient table service and even a canape welcome reception if required. For all of your event catering needs in Sherborne, look no further than the Hog Roast Sherborne team if you want a high standard of food and service and full flexibility for any occasion.