25 years and 3 children later Mark and Emma are still happily married and decided that was definitely something worth celebrating! Having recently landscaped their garden and got it looking spick and span, they decided to host their anniversary party at home, but they wanted to hire outside caterers because they also wanted to be able to relax and enjoy their evening. Pork fan Mark thought a hog roast was a great idea, but his wife was under the impression that they are only suitable for large-scale events, not garden parties. But because we are so versatile here at Hog Roast Somerton, we are just as good at cooking for 30 people as we are for 300, partly due to the adaptability of our catering team, but also due to the range of machines that we have, some of which are better suited to smaller events.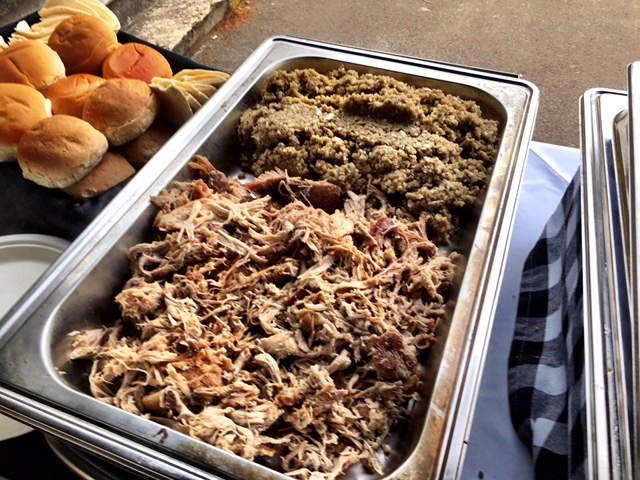 After Emma saw our range of delicious menus and felt reassured that we wouldn't be taking over their entire garden with our cooking equipment, she was convinced that Hog Roast Somerton were the ideal catering company for their anniversary celebration!
When we arrived at their home on the day of the event, we were shown to our cooking area in the corner of the garden and Emma was happy to leave all of the preparations in our capable hands. We spent several hours freshly preparing all of their chosen menu, which included some our unbeatable slow-roasted pork, a selection of fresh salads and jacket potatoes, all made from the best local produce available.
Mark and Emma's guests were very impressed with the feast that awaited them and also enjoyed having a tour of their garden after its extreme make over. The couple had a lovely party with all of their family, friends and 3 children and thoroughly enjoyed celebrating the lives they had built together over the past 25 years. They were full of praise for the level of Hog Roast Somerton's food and professionalism throughout the day and after seeing us in action, Emma couldn't believe that she had initially had reservations about hiring a hog roast company to cater for her anniversary party!