We've just returned from a fabulous party at a retirement home in Tonedale , where the birthday girl Dorothy was celebrating a milestone birthday – she had turned the amazing age of 100! As well as getting a birthday message from the Queen herself, Dorothy's other wish was for her very own hog roast dinner cooked from scratch by excellent caterers, so that's where we came in.
We arrived at the home bright and early in the morning as lunchtime service would be around 1pm and it takes a good few hours to roast a pig to perfection. There were lots of guests invited, including other residents, staff members and Dorothy's friends and family, so we prepared the meat of a large hog by scoring it, wetting it and then rubbing in lots of salt to ensure we had plenty of crackling to go around.
Dorothy had asked us to provide our hog roast rolls(which we call pigs in buns here at Hog Roast Tonedale ), which means once cooked and rested, we would carve off bits of crackling and slice into the meat to get pieces of pork, then fill bread rolls with both and top with our homemade double of apple sauce and sage and onion stuffing. We always bring condiments too, as often a bit of sauce is the icing on the cake for a customer. I love ketchup on mine!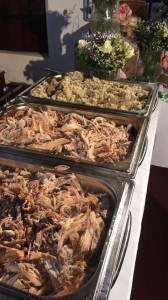 While the hog was roasting in its own juices, our team met with Dorothy and she showed us her letter from the Queen, which she was very proud to receive. She couldn't wait to try our food and she said she'd been able to smell the meat for ages already, and that we should hurry up! You can't hurry a hog roast, though, as it slowly sizzles away until the outside is crispy and browned and the inside is moist and the knife slips right through.
Eventually, though, Dorothy's wish was our command, and it was time for the guests to queue up for a taste of what they'd all been waiting for. There were so many oohs and ahhs while they all munched away, and Dorothy told us she was so happy that she'd chosen Hog Roast Tonedale  for her special day.