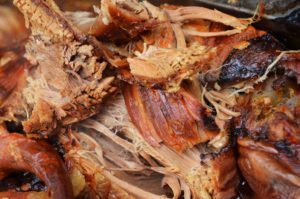 Located close to the Dorset border, Yeovil has been a thriving market town since the Middle Ages. Once a major centre for glove making, today it is better known for its production of military equipment and those interested in discovering more can pay a visit to the Fleet Air Museum, which houses the largest naval aviation display in Europe. If you prefer more natural surroundings, you take a stroll around Yeovil Country Park, which is the biggest in Somerset and is home to some very rare water voles, as well as several fascinating outdoor sculptures and lots of lovely peaceful walks.
Whatever setting you prefer, if you are hosting a special event in Yeovil and would like to have more freedom in your venue options, the Hog Roast Yeovil team can provide you with fantastic food in any location of your choice, either indoors or outdoors, anywhere in the area.
Great Food for All Occasions In Yeovil
Hog Roast Yeovil's catering methods, top of the range cooking equipment and highly experienced mobile catering team enable us to prepare the food you want in any location you like, anywhere in Yeovil. No matter where we are cooking, we always prepare everything from scratch at your venue using the finest local produce available and we have a variety of exciting menus suitable for all tastes, budgets and occasions.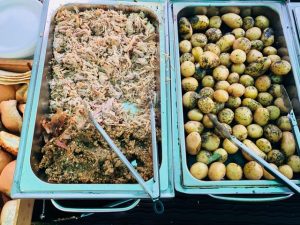 If you are planning a birthday party or a seasonal celebration, we have a whole host of themed menus to choose from, with an inventive array of side dishes to compliment each main course and a choice of different but equally delicious slow-roasted meats, if you would prefer another option to pork.
If you do opt for one of our trademark hog roasts, we provide the best in the area, not just in terms of the quality of the meat, but also in the way it is expertly prepared and slow-roasted for hours until it is falling off the bone.
For more formal occasions, we have a range of elegant menus that are ideal for wedding receptions and corporate events, including canapes, starters, desserts and vegetarian options, all served with a flourish by our own professional events staff.
If you want fabulous food, the freedom to choose any location you want for your special day and faultless service throughout your event, the Hog Roast Yeovil team should be top of your list every time.