What a fabulous weekend we have just had. I had a large event with a hog roast in Sutton Veny and the couple whose party it was could not have been nicer. It was as though they where working for us. Nothing was too much trouble. We certainly pulled out all the stops for them and made sure they had a fantastic party with great food.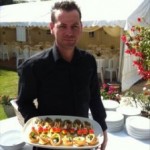 We always try our best but this time we went into overdrive. Great venue lovely couple fantastic party super food what more can I say. Lets hope the next hog roast we do in Sutton Veny is just as good.
We have a busy week coming up testing some new recipes on the locals in our village we are doing a free event so that we can try out our new slow roast selection. It is something we are quite excited about taking large joints of meat and marinating or rubbing them leaving them for 24 hours then slow roasting them so that the meat falls from the bone. Served in a fresh bread roll with different coleslaws. Our friends and neighbours really are in for a treat.