When we're asked to cater for parties or events, whether that's a birthday celebration or corporate function for example, it's often because of repeat customers knowing that our professional team will provide hearty food made with quality ingredients sourced from trusted suppliers. Excuse the pun but we like to go the whole hog each and every time when it comes to taste and service, so if you find we've done your event proud, you'll see the same high levels of both taste and service next time, too. This applies whether we're catering for 600 or 60 or even just 6 people.
For a very intimate gathering we catered last week, our long-time customer Jonathan was more than happy to receive the same kind of service and delicious food as we'd provided for a huge event we'd catered for his business in the summer. On the day of his 60th birthday, Jonathan wanted a small hog roast Oakhill party with his immediate family members only, which meant we would be catering for 6 guests altogether. One chef can easily manage this themself, and I had the pleasure this time. The family would be hosting a large party for friends, extended family members and colleagues over the weekend at a local hotel, but wanted to celebrate quietly at home on the special day itself.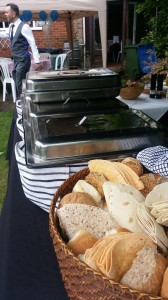 I arrived at the lovely family home on Wednesday ready to cook a winter warmer menu for Jonathan, his wife, and children. Now that it's the time of year to dig out your scarf, hat, and gloves, that's when we start to offer the winter warmer of hot meat and vegetables on stronger disposable plates – something to warm the cockles if you're enjoying a hog roast Oakhill outside. Jonathan asked us to roast Brussels sprouts, carrots, runner beans and parsnips to accompany the hog, as well as to cook some baked potatoes and bring along a small salad dish.
Roasting the small hog to perfection took just over 3 hours, and the meat turned out incredibly juicy, while the crackling was wonderfully crisp. Everyone loved the addition of winter veg and baking potatoes so much that Jonathan has asked for their Christmas hog roast Oakhill party at home to have the same menu!