It's been yet another busy month with a hog roast in Dunster to finish it off for Spitting Pig Somerset – as far as we're concerned the hot pork catering industry is going from strength to strength, and with one bite of one of our juicy hot pork rolls you can see why! We've been all over the place with our Spitting Pig roasting machines over the last few weeks: in fact, by my rough calculation we must have served 7000 servings of tasty hot pork sandwiches over the past month, and not a single complaint, although that's no surprise. Last night saw us doing a hog roast in Dunster in Exmoor National Park, right in the shadow of the castle, for a frankly spectacular surprise birthday party – you should have seen the look on the birthday girl's face!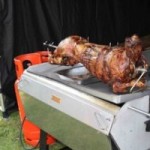 The crowd did an amazing job of hiding themselves away when she got home – I would never have thought 115 partygoers could have disappeared so easily. In fact, I was a bit worried that the delicious smell coming off our roaster was going to give the game away. If she was momentarily shocked when over one hundred of her best friends appeared out of nowhere, she was absolutely delighted when she came outside and realised her husband had got us in to do the catering. And throughout the evening the guests were all telling us the same thing – in fact, several of them took our details so they could get us in for their own events. There's a certain effect that a hot pork roll with all the trimmings has on a person – one is never enough. Most of our trade is word of mouth, because once someone's had a taste of our on-site roasted meats and freshly made sides, they don't forget in a hurry and they tell all their friends. We definitely made this party a night to remember.
Another highlight was a wedding anniversary for a recently retired couple who had spent the last couple of years setting up a smallholding in the Mendip Hills. There was a bit of an unusual request for this one – they wanted to treat their guests to a taste of one of the pigs they'd been raising themselves, so we went down in the morning to collect a very local hog which they'd had prepared by a local butcher. Talk about low food miles! We had to congratulate them twice, once for a long and happy marriage and again for raising a first-class pig to feed their friends on! I'm pleased to say we did them proud and did justice to the excellent hog they supplied – the grins on the faces of all in attendance as they tucked into the plated up pork dinners said it all. We put on a great spread, with buttery new potatoes and two delicious fresh salads our team prepared on site while the hog roasted making the perfect accompaniment. A very satisfying evening all round for everybody involved and everybody in attendance.