September has proved to be a varied month for Spitting Pig Somerset, with a rich variety of events catered for, from simple hog roast Shepton Mallet sandwiches to complex wedding menus, in locations across Somerset and the surrounding area. These have included a fully catered and waitress service wedding for 100 guests in the Officers Mess. The menu comprised a starter of salmon and avocado rotollo with cream cheese, followed by a three meat roast of pork, beef and lamb, with roast potatoes and vegetables and then individual creme brulees (the groom's favourite dessert!). The full menu was produced from scratch in a field kitchen set up on the lawn outside the Mess. A full evening buffet was also provided. The day was another great success, with a fully satisfied client singing our praises.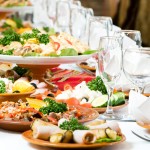 The following week included a hog roast Shepton Mallet wedding breakfast in a Tythe Barn. This was a particularly spectacular setting and the barn looked an absolute picture with all the buffet food set out and the perfectly roasted hog taking center stage. A great time was had by all and the food went down particularly well!
Perhaps the star event of the month was a hog roast for 6000 people for the Soul Survivor event at the Bath and West Showground near Shepton Mallet, in collaboration with Spitting Pig Central. Careful planning and preparation and an early start ensured a very successful event with everyone served with a top quality hog roast in a bun with all the trimmings, in under two hours, a truly remarkable achievement and an indication of the expertise of Spitting Pig caterers. 60 guests or 6000, the quality remains the same! The Soul Survivor organisers simply could not believe what we had achieved and the feedback from all who attended was 100% positive. This weekend we shall be catering for a corporate event , to include a hog roast and lamb roast with salads and potatoes and a private party with hog roast in Shepton Mallet.