The Hog Roast Cheddar team had the privilege of being some of the first people to walk through the doors of a newly renovated market hall when we were asked to provide one of our awesome meaty buffets for its grand re-opening! The once grand market hall had become disused and neglected, but after gaining much-needed funding from the local council, it had been restored to its former glory and was welcoming a more artisan crowd of stallholders selling locally-produced cheese, ale, meat and vegetables amongst many other delights. The committee in charge of the relaunch party thought there was no better way of attracting shoppers back into the hall to celebrate top quality local ingredients than hiring Hog Roast Cheddar! Our passion for fresh food combined with our excellent relationships with the best local suppliers made us the only catering choice for an unforgettable market hall feast!
We were in our element as we nestled in between the excited new stallholders to set up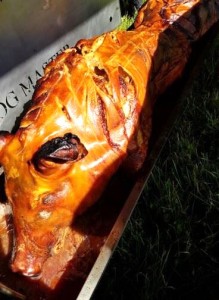 our sleek Hogmaster and we loved chatting with our fellow purveyors of superior local produce whilst we prepared our ethically-reared pork! As our succulent slow-roasted meat was nearing completion and our comrades had finished fussing over the presentation of their stalls, it was finally time to open the doors to the public after such a long hiatus. A steady stream of customers soon became a throng of people all eager to buy some unique local fare and try our one of a kind hog roast! A large queue quickly formed at Hog Roast Cheddar's service table and it was all hands on deck to ensure everyone received fantastic food and great service! Many people commented on how the alluring aroma of the slow roasted pork had hit them as soon as they entered the market hall, and it certainly seemed to get everyone in the mood for sampling all of the other local delicacies on display!
The new and improved market hall is evidently going to be a huge success and Hog Roast Cheddar's food went down so well that we have been asked to come back on a monthly basis to lure the customers in with our unbeatable local pork!