Hog Roast Honiton were hired for a full outdoors catering event to celebrate  the successful business venture of a sixty year old couple who had decided to become entrepreneurs and open a restaurant abroad in sunny Spain a few years back. On their coming back home for the winter season after a couple of years of running a business, which finally came off the ground at full speed during the summer months, and  a lot of hard work, they decided to throw a big party for friends and family whom they had left behind to follow up on their dream. We asked, would they not prefer to do the cooking themselves, since they themselves were in the restaurant business ; however they preferred to take a break and fancied being catered for, and decided to hire other professionals to provide them with their culinary skills. With fifty guests altogether and our customers being experienced restaurateurs themselves, there was a challenge ahead of us.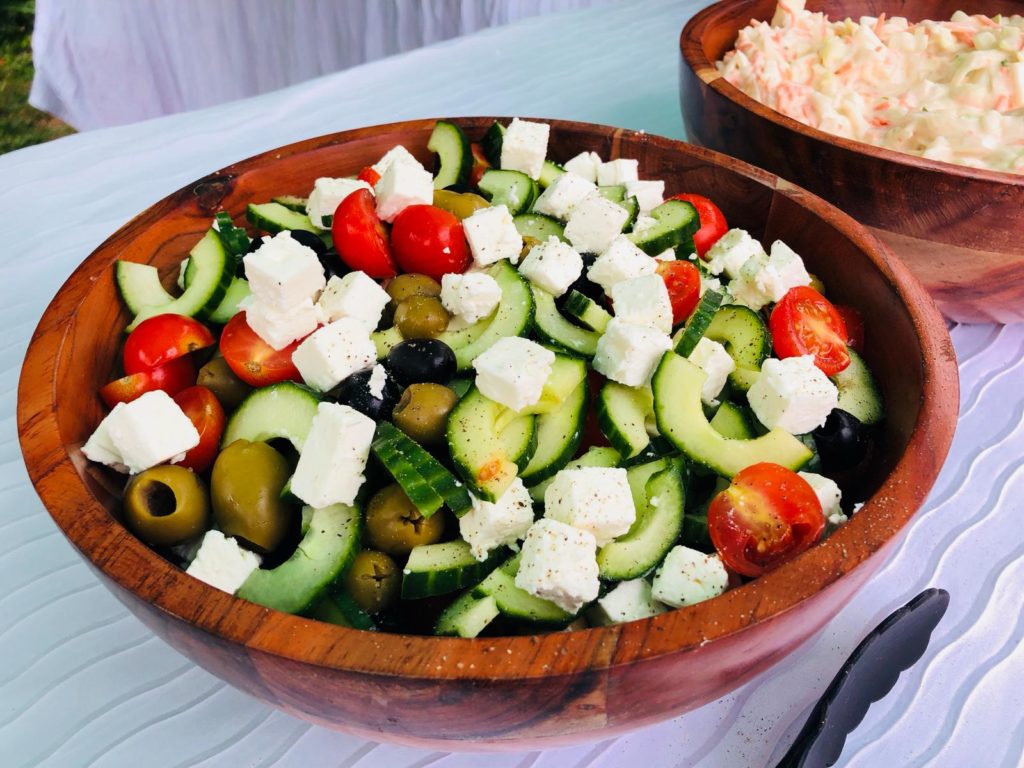 They needed a full dinner service with a big buffet with pastries and rolls, vegetarian dishes, salads and sauces as the starters, and a main course which would include a choice of three different kinds of  roasted meat, with their gravy and various sauces, followed by a choice of desserts. We suggested an ample selection from our menus. Hog Roast Honiton set up a buffet table of quiche, Indian snacks, pate, smoked salmon, tiger prawns, Greek cheese, duck pancakes, mini burgers and pizzas for the children and a variety of breads and rolls.
We got to the venue some hours before the event to lay out the tables, and to set up all equipment and roasted the meat main course on site. Our service staff served, the main course which consisted of roasted pig with apple sauce and stuffing.
Our waiting staff also served the desserts and drinks all through the event. Dessert consisted of a choice between lemon tart or fruit salad, so desserts were overall quite colourful.  The day turned out to be a great spring´s day and I think the hosts were pleased with the whole process and the result. Guests started arriving fairly early and they all showed an interest on our cooking methods, in particular the roasted hog, which Hog Roast Honiton cooked openly in the garden while guests mixed and mingled and approached us with questions about our cooking, which threw even more life into the party. I think all the guests really enjoyed the whole meal and meat lovers were really pleased to have come along and tried our selection of meats. It´s very pleasing to see people coming together and really enjoy a day out.