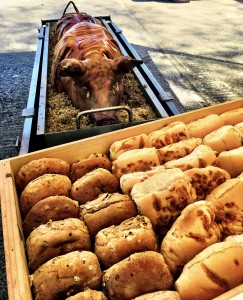 Magic was the name of the game. People of all ages love magic. Illusionists and sleight of hand magicians had all gathered for the annual magician's conference at Minehead. It was a conference that took place in different places each year and this year was the turn of Minehead. The magic circle is very select about its members and secrets as the magician's code should never be broken.
We at Hog Roast Minehead were asked to supply a buffet for the members of the magic circle. We were only allowed in certain areas of the conference as caterers and there were plenty of people to make sure we didn't stray anywhere we shouldn't. When we are asked to cater for an event we are usually there for several hour before so that the meat can be freshly cooked there and then. Since this was so different we had to cook the meats fresh on the day at our office and take it to the venue along with all the salads and other foods we were making. This felt very strange to some of our staff but we are happy to do whatever our clients wish.
A variety of meats were cooked and carved ready to be served out on large dishes. These included slow spit roasted lamb with a mild minty sauce. A BBQ pulled pork with homemade applesauce and a fresh free range chicken with sage & onion stuffing. White and brown floured rolls were buttered and fresh wraps sat alongside the rolls. Hot baby jacket potatoes with seasonings looked tasty next to the meats. A fresh crisp green salad was made and dressed with watermelon. A colourful tomato salad topped with a mozzarella and basil was made in a large dish. Crunchy fresh homemade coleslaw dressed with a slice of fresh orange finished. We also supplied freshly ground coffee with mints or a selection of different teas to finish with.
Our job was to supply and cook the food as we would normally and we would usually be there to make sure everything went well and to serve but on this occasion things were different. We cooked and supplied the food but had to leave it for somebody else to serve as we were not part of the magic circle. After the event we returned to clear everything away and were extremely pleased to be told we had done the circle and Hog Roast Minehead proud. At the end of the day that is what we strive to do.