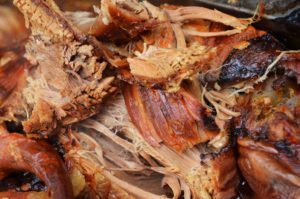 If you are seeking a mobile catering option that is a cut above for any event in Puriton, you will find it here at Hog Roast Puriton. Our food is ideal for large-scale outdoor catering for one of the village's annual public events, as well as for smaller and more formal occasions, whether it be a christening, a milestone birthday or your wedding reception. Getting the right caterers for your event can seem like a challenge, but it doesn't have to be. We are able to provide extensive menus and the most succulent and flavoursome hog roasts for all occasions in Puriton, so why go anywhere else?
We are known in the area for our unsurpassable pork, which is sourced from the most dedicated and ethical producers of pork in Somerset. We also have the know-how and passion to get the most out of our high-quality meat. Our slow cooking method and patient approach results in aromatic meat that simply falls off the bone. As we always prepare our meat on-site, our diners also have the opportunity to see the cooking process for themselves, and watch our on-site chef add a bit of showmanship to the proceedings by expertly carving it in front of everyone when it is ready to be served.
Supplying Only The Best Hog Roasts In Puriton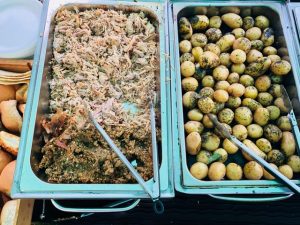 Hog Roast Puriton aren't just the number one hog roast company in the area – we offer menus that appeal to all tastes and that suit a range of dietary needs. This includes the provision of different types of meat, if preferred, as well as meat and dairy-free alternatives. We are able to tweak any part of your chosen menu to accommodate your guests and we are able to offer you a genuinely unique dining experience. Not only that, each dish we prepare will be made from scratch at your venue and will consist of only the highest standard of locally produced ingredients.
Hog Roast Puriton's impeccable pork, diverse menus and ability to think outside the box should make us your first choice for all of your event catering requirements for any occasion in Puriton.