Hog Roast Frome were getting all cultural last Friday night when we were catering for the relaunch party of a swanky riverside piano bar! The bar had always been rather plush, but the owners decided it needed an overhaul so their patrons could benefit from both the live piano music and the stunning quayside views all year round. They achieved this by installing floor to ceiling glass door which could be completely opened during the summer months, so guests could sit outside to enjoy the sunshine whilst also not missing out on any of the melodious music being played inside, and be closed during the winter months, so guests could soak up the cosy ambiance whilst still enjoying the view!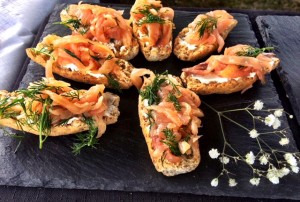 It was a great idea, but after being closed for a month whilst the refurbishment was taking place, the owners Esther and Gregg were understandably a bit worried the effect this had had on their profit margin. They wanted their relaunch party to be a classy affair with the best local pianists on the line up and some sophisticated food included in the ticket price. As they knew Hog Roast Frome by reputation, they realised we were the best people for the job, as just like them, we can offer our patrons the best of both worlds by providing our diners with an awesome experience whether we are indoors or outdoors!
Esther and Gregg chose an eclectic selection of our mouth-watering nibbles to get the party started, including our light mini quiches, delicate smoked salmon and decadent pate en croute. They opted for whole roasted organic chicken for the main course, accompanied by our fragrant crispy Thai salad, creamy coleslaw and seasoned potato wedges. Confident they had an opulent menu for their discerning clientele, they happily left us cooking at the then completely open entrance whilst the pianists got ready to perform.
We greeted each guest with our tempting titbits as they arrived and since it was a gloriously sunny evening, most of them opted to sit outside. Opening up the space was definitely a fantastic idea and as the place being to fill up, it was hard to tell where the bar stopped and the quayside began, which was exactly what the owners wanted! Everyone loved listening to the live pianists again after a month's hiatus whilst savouring our elegant main course and enjoying the river view. A perfect relaunch party with equally perfect food from Hog Roast Frome!