Did you know that Spitting Pig can provide catering for many different kinds of events? We have had the great pleasure of serving all kinds of people at all kinds of occasions in the area, including birthdays, weddings, anniversaries and school fêtes. We've come to cook for you at lots of different venues – from educational establishments to country houses and village halls (and many lovely back gardens!) But did you know that we can also sort out your work party?
Whether it's a small business meeting, your Christmas do or a summer training event for hundreds of staff, we can bring our machines to you and supply the meat if needed. You can even hire one of our machines for a DIY roast or barbecue. We spent one day last week with a large local company that wanted the catering done for them so that they could spend their time relaxing before getting down to business, so off we went, armed with a Titan and a huge hog.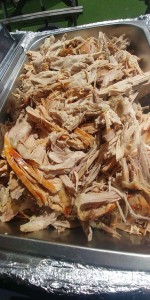 On this occasion, we arrived early in the morning to start slow roasting the hog in Trull as it takes several hours. The company had chosen a simple menu of spit roasted pig with crackling, stuffing and apple sauce to go in our lovely soft buns and we always take sauces and napkins to customers. Corporate hospitality is one of the things that we love to do and this day was no different. As we carved, we chatted to some great people who really appreciated the food, with many returning for more select pieces of meat. It's usual at one of these events for guests wanting to know more about spit roasting and being so impressed as to booking us for a private event, and on this day we just about ran out of business cards!
Once everyone had their fill of succulent hog roast Trull pork buns and crispy crackling, we quietly cleared away as the guests gathered together to conduct their business affairs. As we headed to the door, the staff member who had organised the event rushed over and whispered, "I don't know what your secret ingredient is, but that was the best pork I have ever eaten!" He headed back to his colleagues and we drove away, content that we'd done a great job.