Today our team of expert caterers provided a quality spread Hog Roast in Wedmore for newlyweds Ann and David. We at Spitting Pig realise that everything must be perfect for that one special day as these are memories that will last forever. With that in mind, we believe in making sure that the clients receive the best catering and the finest quality of food, after all, this is going to be an integral part of that everlasting memory.
Our professionally tailored, and skilfully crafted menus are created by an experienced team who know that quality is the start and finish of any fantastic catering experience.
Our popular spit roasted pig with apple sauce and stuffing was again immensely popular with the guests, as was the delicious crispy crackling. Ann and David had also been keen to have spit roasted chicken available for their gathering, no problem we said, how about we serve that with chipolata sausages, home made stuffing and onion gravy? the reply was a resounding, 'yes please!' Our team prepared and delivered the choice of succulent meats with a selection of seasonal vegetables and roasted new potatoes, the Hog Roast in Wedmore was savoured with great enthusiasm by the guests.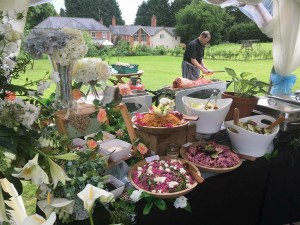 We find that as part of a traditional event like a wedding, guests truly appreciate a wonderfully cooked traditional kind of catering. At Spitting Pig we only deliver locally sourced produce, such as our free range chickens which proved ever so popular at this wedding reception.
Our staff worked hard and were rewarded with great accolades and appreciation, particularly for the courteous and friendly manner in which they greeted the guests whilst providing them with complimentary drinks and Canapés on arrival.
Our dedicated team usually arrive eight hours prior to the desired serve time, this way we can ensure that our slow cooked roasts are timed to perfection and that we can look after the whole catering experience whilst everybody else can enjoy the special day. At the turn of the day, we discreetly clear and clean up leaving behind only the happily betrothed and all their guests, to retain only the most vibrant and engaging memories.