We made the long travel down to the coastal area of Weston Super Mare this weekend, a tourism hotspot with a beautiful seafront and a buzzing atmosphere full of life and joy. On the seafront we provided our services for an inn celebrating its 50 year anniversary as well as its new ownership as the son had taken over from his father who hung up his cowl after 50 years of hard work.
We arrived early in the afternoon to prepare for an evening service. We setup in the inn's beer garden and had to make the most of the room we had. The owner requested not only hog roast in Weston Super Mare, but also chicken and turkey. So we needed more than one of our machines. Fitting them in the van with all the supplies we needed was quite the squeeze! After seasoning and preparing the meat to cook we had to also focus on the variety of other options to go alongside the meat on the requested buffet. We came with a plethora to prepare, of course we had the typical salads, sauces and stuffing to prepare but there was also so much more. From our scrumptious gourmet sausages and our burgers to freshly made bread by our baker and buttered new potatoes.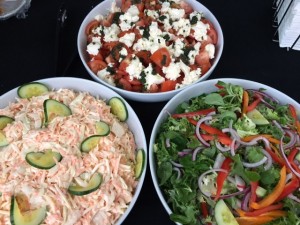 As the set eight o'clock serving time loomed, guests started to come outside into the warm but breezy summer's day, drawn to the magical aroma of our hog roast in Weston Super Mare, especially that of our various meat options, perfectly prepared, showing our chef's expertise. As we finished up we socialised with the guests and they were an extremely lovely bunch, and delightful to cook for. We were met with cheering as we started to carve into the meet and we allowed guests to finally tuck in once we'd finished laying out the buffet.
The food was amazingly received with everyone too busy enjoying the food to talk, they couldn't stop enjoying our hog roast in Weston Super Mare! They came back for seconds and thirds until finally nothing was left but happy faces and people thanking us for the wonderful meal we'd prepared. We left the venue to a round of applause and gratitude and headed home happy with a great day of work.