If you've recently gotten engaged (congrats!), then we know you'll likely be anxious to start the ball rolling on your wedding prep as soon as possible. But planning a wedding, especially these days, can be a lot trickier than it initially seems. Due to the coronavirus pandemic and its various lockdowns pushing forward wedding dates, 2022 is set to be the single-busiest year for the industry since, well, ever! For brides and grooms set on tying the knot this year, this revelation has unfortunately made the already overwhelming world of wedding planning all the more difficult to navigate.
The good news is, you couldn't have come to a more well-equipped bunch than Hog Roast Portishead's caterers! As always, our team is here to help make sure that you get the most out of your celebration and our value for money service guarantees that achieving the wedding of your dreams won't break the bank either.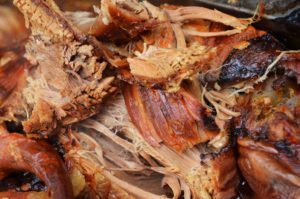 We have a vast assortment of set menu options to offer, each of which has been expertly composed to suit a wide range of budgets and themes. In addition to this, Hog Roast Portishead can also provide a precise meal plan that is inclusive of the needs of every palate, dietary requirement and allergy on your guest list. Just speak to our catering manager, Alistair – he'll be happy to help you customise one of our already-existing menus or create a bespoke meal plan of your own.
We'll do whatever it takes to make your day perfect, and on top of providing you with a stunning group dining solution, we can set you up with a wonderful venue for your reception. Yes, really! Over the last few years, we've been working hard to provide our customers and clients with an all-round service, and we've had the great pleasure of partnering up with some of Somerset's most coveted wedding locations. This means that you can tick two of the biggest and most important tasks off your to-do list by giving Hog Roast Portishead a call.
For more details on how Hog Roast Portishead can make your wedding the party of the decade, give us a call or fill out our simple enquiry form, and we'll get back to you ASAP.