Wedding receptions come in many shapes and sizes, so it is important that wedding catering is just as flexible! No two events will be the same, so no two catering packages are either. At Hog Roast Pawlett, our wedding catering is entirely customised to you, providing the dishes and formality that is right for you and your guests. Here is just one way to enjoy our catering as part of your reception…
Steph and Jackson had planned to get married last year but had to postpone their celebrations due to COVID-19. After having an extra year to plan, the couple decided to host an all-day ceremony at a farm local to their home in Somerset. The reception was set to include a wonderful formal lunch, followed by an afternoon of entertainment, before an evening buffet and disco. Our catering manager Alistair was more than happy to provide two meals for this weeding, ensuring that there was plenty for the 70 guests to enjoy.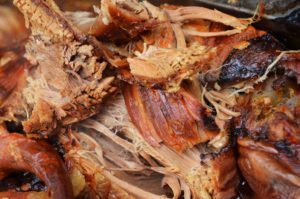 After the ceremony, the Hog Roast Pawlett team began to prepare the main course. The main meal was a classic hog roast, served with all of the trimmings, including seasonal vegetables, sage and onion stuffing, and fresh chips. Following the main meal, the guests enjoyed the wedding cake, as well as profiteroles and cheesecake. The desserts were served with fresh cream and berries, creating a delicious and beautifully presented dish! This was a wonderful formal meal, with plenty of dishes for everyone to enjoy.
At 20:00, it was time to serve the evening buffet, which consisted of sausage and bacon rolls. This was a great contrast to the formal lunch and was an easy meal for the guests to enjoy while they danced the evening away! There was plenty to go around and leftovers to enjoy the next day.
Do you have a wedding approaching in 2022? If so, get in touch with Hog Roast Pawlett today to book your catering. Simply let us know your party size, date, and location and we can begin to create your ideal wedding menu.