Bath is the largest city in Somerset and named after it's Roman-built baths that are Britain's only natural hot springs. A beautiful and historic location. Hog Roast Yatton's catering manager Alistair had the pleasure of catering in Bath over the weekend at a private house. Alistair was catering at an event to mark a special birthday and had been corresponding with the delightful Tara.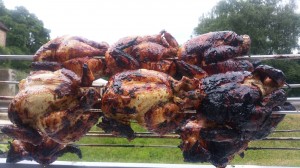 Tara had chosen Hog Roast Yatton's Southern Slow Roast menu; an enticing and flavoursome menu with mouth-watering food and a great selection. The meats are slowly roasted over 24 hours guaranteeing the most succulent and melt-in-the-mouth consistency. The travel time to the event gives it resting time making it even more tender as the juices get soaked back up into the joints. The meats then get flashed on the BBQ before being served. As a result, Alistair and his team arrived three hours before the 6:30pm serve time so that they could set up, prepare, and cook the food.
It was a good day for a celebration as the sunshine blazed down creating a joyful atmosphere, aided by alcoholic beverages and the smell of tasty food! Close and intimate family and friends had come to help celebrate the occasion as the rule of 30 still applies.
The sun was still high in the sky when it came to the 6:30pm serve time. The guests were thrilled with the flavour-filled spread. They enjoyed bourbon BBQ pulled pork, Texan-BBQ tantalising beef and zingy Cajun-spiced chicken. The bourbon pulled pork went down particularly well with the guests. To accompany the delicious meats, Tara had selected the BBQ-grilled corn cobettes served in a blanket of butter and fresh chives, dreamy Mac and cheese, fresh mixed salad, crunchy homemade coleslaw, and crisp fries.
The Southern Slow Roast is popular Hog Roast Yatton menu as an alternative to the classic hog roast menu. Tara was overwhelmed with how wonderful the food and service was.