When Hog Roast Midsomer Norton caters events and parties, it's with dedication to our customers and their guests, with both first-class service and quality, homemade food that always tickles the taste buds. We've spent a long time now helping to ensure that all kinds of special occasions are a roaring success, and one of the important ways we do so is by providing lots of different menus, with a great array of possibilities for various special diets as well as personal tastes.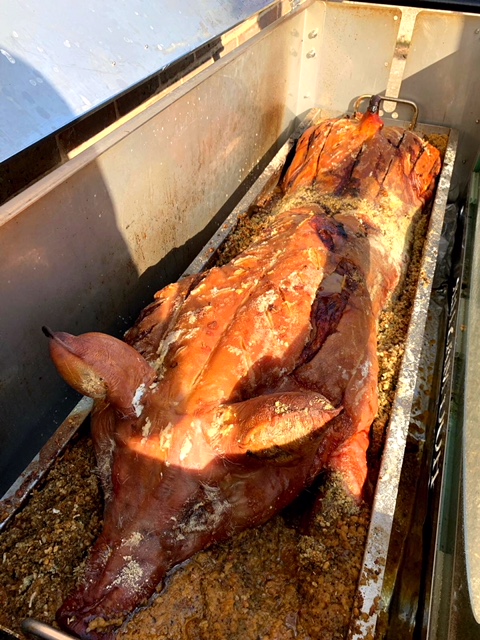 Long-gone are the days when a vegetarian or vegan guest has to nibble on a leftover side salad, as we have some tempting main dishes on offer, such as stuffed mushrooms and peppers, quiche and veggie skewers, and if you are inviting guests with any other dietary requirements, like gluten- or dairy-free, just let us know in advance of your event and we can make sure they are catered too.
Hog Roast Midsomer Norton recently catered a 45th birthday party locally, where we were asked by Joanne to feed her thirty guests our delectable pigs in buns, made fresh from a traditional centrepiece hog roast that would sizzle away for hours on end at her home. She also needed a vegan option, and was very happy with the sound of our vegan version of veggie skewers. We usually make these yummy kebabs with halloumi but we omit the cheese when making them for vegans. 
On the day of Joanne's birthday, our Hog Roast Midsomer Norton chef and team members arrived at her home several hours before we were due to serve the food. You may be surprised by this but it takes a long time for a hog roast to cook to perfection, and we prepare the meat from scratch at your venue too, so we have to be there in good time. On this sunny day, our chef prepped the meat and then set the hog roast machine to low and it roasted away while we watched over it.
By 5.30pm, the guests had all arrived to wish Joanne a happy birthday and be treated to some delicious pigs in buns, with the vegan guests also looking forward to their tasty skewers too.