After launching in Bristol back in 1966, contamination control mats and flooring manufacturer Dycem quickly became a global sensation. Today, they are widely respected as the industry's leading specialists and have hubs all over the world, allowing them to cater to household brands like Sony, BMW, Heinz, Nestle and more! So, when Hog Roast Bristol received a call from Dycem's HR Manager, Maria, who was looking for our help with a corporate event they had been planning, our team were beyond eager to assist!
The function took place back in the first week of October at Dycem's Ashley Trading Estate premises in Bristol. Being local to us meant getting to this venue only involved a short jaunt in the catering unit for our Hog Roast Bristol team. Though, with lots to do in the lead up to the 1 pm serving time, our catering manager, Alistair, who was assisted by Charley on this occasion, made sure to arrive at the location bright and early that morning, ensuring themselves plenty of time to prepare the Classic Hog Roast Menu that Maria had requested.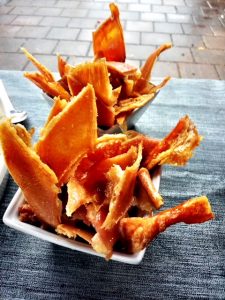 For the 40 guests, Alistair and Charley prepped one of our smaller-sized hogs, which they slow-roasted to perfection over real flames after scoring the skin and rubbing salt into the meat for extra flavour. Once cooked, they expertly carved up the pig and served the crunchy pork scratchings, soft and juicy meat, and sage and onion stuffing in chafing dishes.
Adding the finishing touches to the meal, Hog Roast Bristol also prepared grilled veggie skewers with tzatziki dip and flatbreads for non-meat-eating guests, along with a variety of flavoursome sides, which included a seasonal green leaf salad, homemade coleslaw, crispy Thai salad, roasted new potatoes and delicious applesauce, which they presented on the serving table alongside a bowl that had been stacked high with gluten-free rolls.
After their arrival, the guests wasted no time digging into the fresh and delicious food, for which they expressed endless compliments. And having spent all morning working hard on creating such a gorgeous spread, this was music to the Hog Roast Bristol team's ears!