40th birthday parties are always a fun and exciting time. Hog Roast Shurton were beyond excited when their latest client hired them to cater her special 40th birthday party. 15 of her very luckiest friends would be getting a lovely garden party complete with a delicious Hog Roast buffet to celebrate her milestone birthday.
The menu for this fabulously fun 40th birthday party was an eclectic mix of dishes that the client selected from the Hog Roast menus. The birthday girl worked with the team to create her bespoke buffet menu for her birthday party.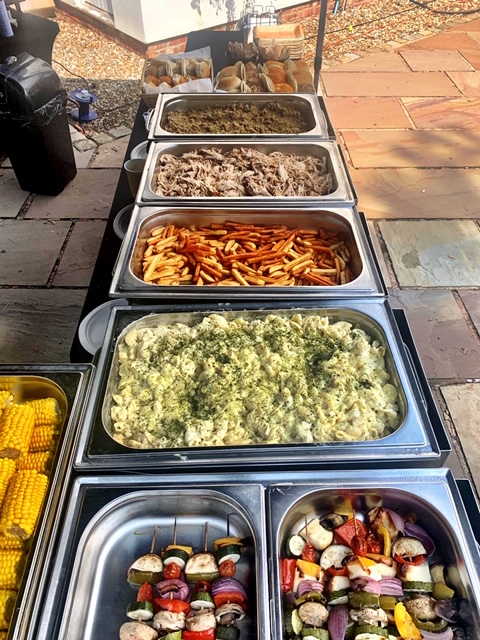 The weather held fair, it was a beautifully hot, gloriously sunny day when the clients' party rolled around. The Catering Manager from Hog Roast Shurton arrived at the clients' house several hours before the 6pm buffet serving time. That ensured that there was enough time to set up the catering equipment and gazebo on the driveway at the side of the house before getting to work on creating all the dishes. Everything was made fresh at the home venue in the hours leading up to the serving time, something that the client loved the sound of!
Not only did the catering package include the food and Catering Manager, but Hog Roast Shurton also provided high quality wooden bamboo crockery and cutlery for the guests to use while eating their buffet. Also as part of the deal paid for by the birthday girl, the Catering Manager would take away any and all rubbish pertaining to the catering of the event at the end of the buffet serving time.
At 6pm on the dot the guests tucked into the delicious buffet. There was a scrumptious selection awaiting them. There was a Southern Slow Roasted Beef Brisket, Whole Roasted Cajun spiced chicken and BBQ beef burgers. There was also delicious vegetarian quiche and an array of perfectly grilled vegetable skewers, with accompanying assorted dips and condiments. Rounding off the buffet was a mountain of piping hot sweet potato fries and lots of soft gluten free rolls.
The event was a sensational success. The guests and birthday girl thoroughly enjoyed their beautiful buffet.