If you're organising your own party or event and you're looking for dedicated caterers who serve tasty food, and at a price that can't be beaten, look no further. Hog Roast Keynsham can fulfill all of your culinary wants and needs, regardless of location, the number of guests invited or the type of event that you're thinking of. From milestone birthdays to engagements and wedding anniversaries, and weddings themselves of course, as well as corporate functions, christenings, and school fetes, to name just a few, we have spent many years ensuring that our customers and their guests enjoy scrumptious fare, and that includes those who either can't or prefer not to eat a hog roast.
If you have any guests on special diets, you may be concerned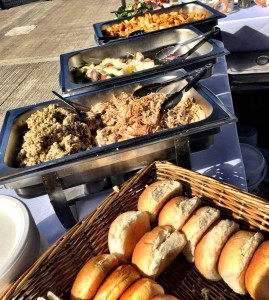 about hiring a hog roast caterer, but with Hog Roast Keynsham, everyone is well-fed on the day as long as we have advance notice. You may have some guests who would prefer spit-roasted poultry instead, for example, so we could cook you chickens or turkeys either instead of a hog roast or in addition to one or you may have vegetarians, vegans or gluten-free guests. Regardless of the dietary requirements or tastes of your guests, we have something for everyone.
For a retirement party that we catered locally recently, Hog Roast Keynsham was asked to cook our popular Southern Slow Roast Menu for 25 guests, as well as a vegetarian option for two guests. The Southern Slow Roast Menu is amazing for various tastes, as we give you three marinated meats and four sides, with the sides being suitable for vegetarians (and some for vegans too). For Alec's party, he asked for our bbq pork, beef brisket, and sticky pork ribs, as well as mac and cheese, jacket potatoes, a green leaf salad and our homemade coleslaw.
We arrived at Alec's home a few days ago and set up our equipment in the back garden, and then slow-roasted the meats for a few hours until incredibly tender. Nearer the time of the food service, we cooked the mac and cheese and baked potatoes, put together the fresh salads, sliced the bread rolls and dished up the sauces and it was soon time to serve some hungry guests.