Let Hog Roast Somerton impress your guests with a stunning hog roast centrepiece and they'll be talking about it for years to come. We've spent years perfecting our signature food, whether we slowly roast a hog for hours in order to make you our delicious pigs in buns or for a feast together with fresh vegetables, potatoes and our tasty homemade gravy. Our highly-trained chefs go the extra mile every time to ensure that every special occasion we cater not only has expectations that are met, but are exceeded, regardless of the type of event that you're hosting. Whether you're planning a birthday party, corporate function, wedding meal or anything else, we can make it especially memorable with our fresh, high-quality homemade goodness.
When Ruth and Dan called us to book our Hog Roast Somerton catering services recently, they were organising their teenager's birthday party and wanted a small affair at home with family and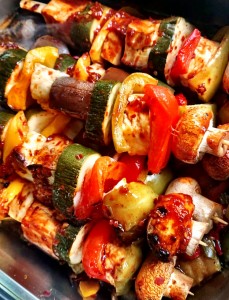 friends. We can easily cater huge events with hundreds of people as well as intimate ones with a handful of guests, and our services are the same either way – we are simply dedicated to providing great food at a great price. For the couple's daughter's 14th birthday, they decided on a grown-ups style hog roast, where we would freshly prepare and slowly cook a small pig and serve pigs in buns to the guests, in addition to spicy sweet potato wedges and our homemade coleslaw. When it comes to additional food, we have plenty of choices available, from starters to desserts, side dishes to extra meats, and we have many alternatives too, to make sure everyone can eat our food at your party.
On the day before the birthday celebration, Ruth called to ask us about a last-minute vegan option, and she was relieved to hear that we can cater special diets. While 15 of the guests would all be enjoying our scrumptious hog roast rolls, the vegan guest would be enjoying our hugely popular grilled skewers, full of fresh veggies including mushrooms, peppers, courgette, red onion and tomatoes.
Hog Roast Somerton had a great time cooking and serving yummy food to the hungry guests and by the time we were clearing away, the hog had been stripped clean and so had the skewers, so we were sure that everyone had enjoyed our food as much as we had enjoyed cooking it.