When it comes to planning a special occasion like your wedding day, there are so many different factors involved but one thing is for sure and that's that everyone expects tasty food to be served. Hog Roast Frome knows that no two events and certainly no two wedding days are the same, and that's why we work together with our customers to make sure everything goes to plan and with creating the menu they want to be served on the day. Whether you are thinking about a lavish banquet with welcome drinks and canapés, several courses and posh treats to finish off the meal or a simple yet delicious buffet meal of hog roast rolls and nothing else, you've come to the right place, as we always endeavour to give our customers and their guests exactly what they want.
For Tina and Ben's wedding reception recently, they asked Hog Roast Frome in advance to help them create the menu of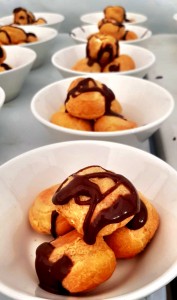 their dreams. They both knew they wanted our sumptuous pigs in buns served for the main course, which would be after us roasting a hog for hours on end beforehand, resulting in perfectly juicy meat slivers and plenty of salty crackling to stuff into the bread rolls and top with our homemade duo of stuffing and apple sauce. The couple also knew they needed a vegetarian alternative for two of the 120 guests; we are often asked to cater special diets and always can do, as long as we have notice to be able to put together a suitable homemade dish for that guest. What Tina and Ben needed assistance with was deciding which of our many veggie options would be best and they also wanted to add a starter and a dessert.
We have so many choices it's mind-boggling but for this couple's big day, they settled on our popular veggie skewers for the vegetarians, tomato soup for starters and yummy profiteroles for dessert – with the starter and dessert both suitable for the vegetarian guests too.
On the day of Tina and Ben's wedding, Hog Roast Frome slow-roasted a hog to perfection and all of the guests and the happy couple themselves devoured our fresh, homemade food with relish.