The Hog Roast Radstock team love weddings! From the beautiful scenery to the exchange of tear jerking vows to the delicious food – what's not to love?! When we were asked to cater for Oliva and Johns wedding last weekend, we were just as excited as they were!
As we arrived at the venue, the guests and wedding party were still inside the quaint 16th century Church, giving us plenty of time to set up and prepare the wedding feast. The reception was being held in a local barn conversion which gave the wedding a rustic theme and gave the decorations of candles and flower garlands that much more of a romantic feeling.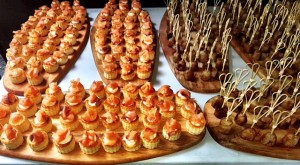 For the guests we prepared a selection of our chef's canapes which included Handmade Gourmet Sausage which we served with a Whole Grain Mustard Dip. Wild Mushroom Bouchees with a creamy mushroom, garlic and thyme filling and some Smoked Salmon on Fresh Brown Bread. We served the canapes as the guests arrived into the barn which gave the bride and groom some time for those all-important wedding photos.
For the main meal we had the traditional Hog Roast Radstock slow roasted hog. We had had a very special request from the groom that instead of the ceremonial cake cutting the newly wedded pair wanted to cut the hog and serve it to their guests! Of course, the Hog Roast Radstock team were more than happy to oblige, as technically this made our job easier and provided the perfect photo opportunity for the pair. We gave a quick crash course in carving and before we knew it they had served all of the guests!
We retained our duties to serve the accompaniments of crunchy green salad and roasted potatoes smothered in a garlic butter. Olivia ad John praised us for our hard work and John joked that he would be after a job with us after he had impressed his guests so much with his carving. John we would be more than happy to have you join the team!!