Hog Roast Meare cater for all types of events, whether it be a large party, a romantic wedding and in some cases, we cater for wakes. In the unfortunate circumstance of a wake, Hog Roast Meare are there to ensure all of the guests are greeted with a lovely team and a large plate of delicious food. We also ensure the host of the event has no stress about preparation of the buffet or cleaning up afterwards.
Early January this year, Hog Roast Meare were called by a grieving wife, Barba, and asked to cater her husband's wake. We were happy to do so. Barba told us that her husband loved to tuck into a hog roast dinner when he got the opportunity and she wanted to celebrate his life by serving his favourite food.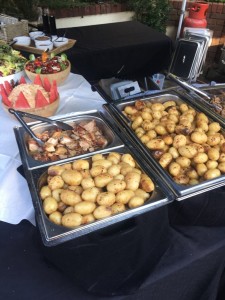 The team and I arrived at the small village hall located in Meare centre. We set up within an hour and had our small pig cooked to perfection ready for the guests. The room was filled with a celebration of Rio's life when his family and friends arrived. We were complemented on our friendliness and the beautiful set out of our buffet. For this event, we supplied an array of salads, our famous herb potatoes, 2 jugs of home-made onion gravy, a tender hog and finally fluffy bread rolls for those who wanted to create their own sandwiches.
Music was playing whilst the crowd gathered round and told their favourite stories of Rio. Whilst they enjoyed each other's company and exchanged memories, we quietly cleaned up our work surfaces, loaded our machine into the van and ensured all the napkins and bowls were cleared.
On the sad event of a wake, Hog Roast Meare are always there to ensure people are comforted with warm food and approachable, caring staff. We pride ourselves on our fantastic services and thrive from feedback from our events.