You'd think by this time of year, couples would be less keen to get married outdoors, but despite the cold weather, lots of brides and grooms seem just as determined to have an al fresco wedding reception. Elaine and Peter, the couple who Hog Roast Yeovil most recently had the pleasure of catering for, were no exception. They didn't however want all of their guests to be exposed to the elements, so they decided to hire a large tipi in which to host their reception for their 80 guests.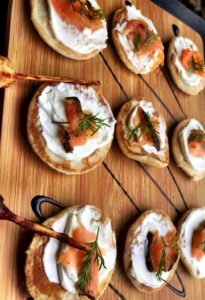 It was a quirkier option than a traditional marquee, but it certainly did the job of keeping the wind and rain out! When the Hog Roast Yeovil team arrived to set up and get our sleeves rolled up ready to freshly prepare their wedding menu from scratch, the tepee was simply but tastefully adorned with fairy lights, which gave  a lovely impression that we were cooking under the stars, with the added advantage of us not being outside in the November weather!
Elaine and Peter chose one of our equally tasteful menus, including  canapes of mini Thai chicken skewers, mushroom bouchees and smoked salmon to welcome their guests, our classic hog roast with all the trimmings for the main and our decadent chocolate torte for dessert, along with halloumi skewers for the vegetarian option.
When the guests arrived, our friendly front of house staff were armed and ready with our delectable nibbles and efficiently showed the guests to their seats. The wedding party seemed just as taken with the tepee idea as we were and the atmosphere was warm and relaxed as everyone tucked into the food and made toasts to the bride and groom's long and happy future together.
Elaine and Peter were really glad they had gone with their tipi idea and they were even more pleased with their decision to hire us to cater for their special day. They loved the food and were impressed with the way Hog Roast Yeovil had been able to prepare such a professional menu without a kitchen in sight!