If you've been dreaming of your wedding day, it no doubt includes the kind of food you'd like served to your guests. The food is a hugely important part of such a special day, and it's something that your guests will likely remember for a long time to come, and with Hog Roast Salisbury, our professional team members will do you proud. Whether you're planning a simple, informal menu like our gorgeous pigs in buns, or you'd like a starter, main and dessert served, or you are thinking of a formal, intricate, menu featuring various foods, as well as drinks served alongside handmade canapés, we have on offer so many options that you won't believe your eyes.
When Bob and Shelley booked us in for their wedding day feast several months ago, we went through our menus with them and let them know that they could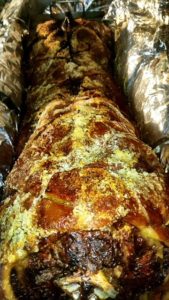 mix and match items between menus if preferred, and that we could easily cater for personal diets if needed. They had their hearts set on our famous pigs in buns, having enjoyed them before, but also needed a vegetarian option and wanted additional dishes to make sure their guests were all well-fed on the day. After discussing what we can do, the couple asked us to also provide two potato dishes of new potatoes and spicy sweet potato wedges, two salads and veggie skewers for the two vegetarian guests. Hog Roast Salisbury is proud to offer so much choice and variety and also to cater for dietary needs, because we simply believe that everyone should be able to enjoy our food, regardless of a diet that they need or choose and regardless of personal tastes.
On the morning of Bob and Shelley's wedding at a gorgeous hotel venue nearby, our Hog Roast Salisbury team set up our equipment and got on with roasting the hog, which would take several hours to cook to perfection. Despite the chilly Autumn weather and spots of rain, the couple and their guests clearly had a fantastic time, and not least due to our fresh, homemade food that we served until everyone invited was satisfied.