With the birth of Daniel and Mary's daughter, they knew they wanted her christened as soon as possible. After sending out over 100 invitations and get almost all ticked yes, they knew that they would have to provide food, and a lot of it. They contacted Hog Roast Bridport because they know their family and friends would enjoy the taste and experience that comes with having a hog roast.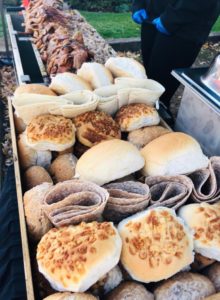 The guests were thrilled to see the spectacle of a hog roast as the centre piece for the party. Here at Hog Roast Bridport we know that having a hog roast is an easy and very economical way to feed your guests and keep them happy, whether your event is a fancy banquet or a casual gathering, a hog roast suits all events. With over 26 years of experience, from weddings, christenings, parties, charity events, through summer and winter, Hog Roast Bridport pride ourselves with quality food, professional staff and the highest standards of hygiene.
For the christening we arrived on site several hours before service, our hog roast cooking away in the background whilst we prepared tomato and mozzarella salad, Greek salad and our home made coleslaw, our client also wanted chips so we made sure our chip fryer was ready for when guests lined up.
Serving time quickly came around and with our chafing dishes ready we quickly served all 100 guests on wooden bamboo plates. The looks on their faces when they spotted the fresh variety of salads and spotted the crispy fries and homemade apple sauce, we wish we could have taken a picture!
Daniel and Mary made sure to come over once service was finished to let us know what a brilliant job we had done, and to let us know that they would be hiring us for their daughters next birthday. Other guests also came over to ask for our details knowing that they couldn't stand waiting any longer for their next Hog Roast.