Commencing the second phase of our route out of lockdown, the 12th of this month was a very big day for people across the country, including our team here at Hog Roast Burrow Bridge. With weddings and other important commemorative events (albeit small-scale versions) able to go ahead again, our team, for the first time in over a year, can now cater to these special gatherings in person!
As a result of this recent change in circumstances, our crew have been like a team of busy worker bees lately, as we strive to keep up with the growing demand for our services. And at the minute, we often find ourselves managing more than one event a day, meaning that time, more than ever before, is of the essence.
On Wednesday last week, though, things were a little bit more relaxed, with only one wedding reception of 15 guests to cater for. The bride and groom, childhood sweethearts, Rosie and Alexander, had approached us months prior to the nuptials to discuss dining options and, after letting them know about our latest addition, the Alfresco feast, the pair placed their order instantaneously.
Hog Roast Burrow Bridge's catering manager went all out to put the couple's mind at ease ahead of their all-important day, and when it finally arrived, our team started their morning off early; ensuring the food would be ready in plenty of time for the wedding party's arrival at the reception venue.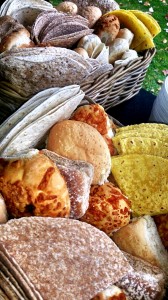 With little more than a handful of guests to feed, it didn't take our team long to lay out the spread of salads, rolls and condiments, which they did while the suckling pig slowly spit-roasted over a low flame behind them. The dripping juices from the pork sizzled and spat, adding a more intense flavour to the sage and onion stuffing that filled the tray below the rotating meat. Completing the meal, they whipped up a tray of buttery new potatoes with chive seasoning and prepared an antipasti platter of meats, cheeses, olives, sundried tomatoes and artisan loaves for each table.
Suffice to say that Hog Roast Burrow Bridge had an absolute ball at this celebration, which was made even better by Rosie and Alexander's reaction to the stunning spread!