This is not a drill, I repeat, this is not a drill! From the 17th of May in England, informal gatherings can begin to go ahead with as many as 30 people in attendance, and with so much excitement in the air over this long-awaited development, Hog Roast Wilton has been on the go non-stop these past few weeks taking bookings and setting out menu plans for all of the celebrations that are yet to come!
Now, with time quickly closing in on the big day, we're keen to find out what you've got planned for when lockdown eases. A lively family reunion perhaps? A backyard BBQ with your bestie's? Or maybe you've got something else in mind, entirely? Whatever you've got up your sleeve, though, be sure to give Hog Roast Wilton a ring if you're looking for some flawless catering at a fair price…
A couple of weeks back, we started working with Rosie on her upcoming event, which is now within touching distance, and we're so pleased to have been able to accommodate the client's every wish.
As a huge fan of the festival scene, Rosie and her friends were disappointed when their annual music weekends were cancelled last year. And so, with lockdown restrictions beginning to soften, she came up with the ingenious plan of transforming her back garden into her very own, mini music festival, complete with a succulent hog roast stall from yours truly.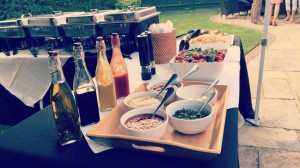 Hog Roast Wilton has handled several music festivals in the past, and we know from experience that the queue for the hog roast is always the longest, so we were immediately confident that we could deliver exactly what Rosie wanted. And, helping Rosie to decide on the perfect feast for the occasion, our catering manager ran her through our most popular options for these sorts of events.
Featuring a large assortment of American-inspired dishes and irresistible side options, it wasn't long before the client agreed that our Southern Slow Roast Menu would be the perfect fit for her get-together. Rosie and her guests can't wait to get a taste of Hog Roast Wilton's famous cooking, and when they do, we're sure they'll be extremely satisfied!