If your little one has a birthday coming up, then there's an extremely high chance that they have asked (begged) you for a party where they can celebrate among all of their best friends, a.k.a their entire class list.
At first, you probably agreed to their request, thinking, "How hard can it reasonably be to plan such an occasion?" But now that the reality has hit, and the cost of hiring child-friendly entertainment, decorations, and perhaps even a designated venue is starting to add up, you might be regretting that decision (just a tad) – especially if your birthday boy or girl continues to flip-flop on their chosen theme as the day closes in. And, on top of all that, you've somehow got to find a way of catering to a room full of fussy children with varying tastes, intolerances and dietary commitments. Talk about stressful, huh?
What started out with good intentions, by now, feels like an impossible feat – but fear not! While organising any event can be a daunting experience, much less one that's centred around the needs of children, there is a way in which you can minimise the pressure.
Introducing Hog Roast Corton…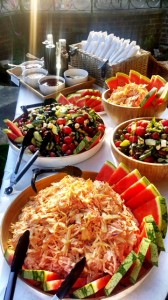 Run by time-served catering manager Alistair, who has handled more than his fair share of children's parties, Hog Roast Corton is just what you need if you're looking for an easy, affordable and reliable method of catering. We have a wealth of unique menu solutions to suit any occasion and palate, so whether your child has their heart set on a wild western themed party or a Disney princess bash, you won't have any trouble finding a spread to match. We will even help you design your own, bespoke menu if there's nothing on offer that fits with what you're looking for exactly!
On top of that, Hog Roast Corton promises to clean up after ourselves (and the kids) when the festivities wind down, and hopefully, by the end of the party, they'll all be hooked on vegetables after trying our children-approved salad bowls, which feature bold and attractive colours to draw the attention of those who are typically averse to having their 5-a-day.