When Kelly and Daniel approached us about catering their big day, we knew we had to do something extra special! They discussed with us some initial ideas and explained the rustic theme of their wedding, which tied in perfectly with our alfresco dining experience! Our catering complimented the theme of the day and was enjoyed by guests of all ages.
We arrived at the venue for the reception around 6 hours before the guests' arrival, to give us plenty of time to cook and prepare all of our dishes on site. The venue looked beautiful, with wooden tables and chairs decorated with lace and greenery, as well as a large dance floor in the centre. The guest list was around 150 guests, which was split into 15 tables around the edge of the venue.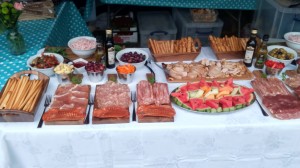 The first course for our alfresco dining is a selection of antipasti platters, served to the tables by our Hog Roast North Curry waiting staff. The platters are a refreshing change to a formal starter and paired excellently with the theme for the evening. Our platters consisted of a selection of slices of cooked meats, fine cheeses, breadsticks, salads, and crusty bread slices, served with olive oil and balsamic vinegar. These platters have something for every guest to enjoy, which is why they are such a great choice for a wedding with many guests.
The platters were followed by a delicious, slow-roasted pig, which is our Hog Roast North Curry speciality. The pig was cooked to perfection throughout the day and full of natural juices and flavours. Accompanying the meat was apple sauce, homemade stuffing, crackling, and fresh bread rolls and wraps.
Finally, the real star of the catering was the delicious wedding cake- provided by the couple. Alongside the wedding cake was a selection of our other desserts, including fresh fruit salad and cheesecake.
Our alfresco dining package is not only available for weddings; we can provide this style for any private or corporate event. It is the perfect level of formality between a sit-down meal and standard buffet catering, while also giving you more freedom with your dishes. To book your catering with Hog Roast North Curry, simply let us know your event date, party size and location, and we can start to discuss your perfect menu.