The lovely, professional, and rather sociable Alistair has an inspiring passion for making people happy through the love of flavoursome food and super service. You are guaranteed that as Hog Roast Odcombe's catering manager, Alistair goes above and beyond for his customers, with many claiming him to be a 'honouree' family member with how he makes them feel about their upcoming event and what an amazing job he does on the day.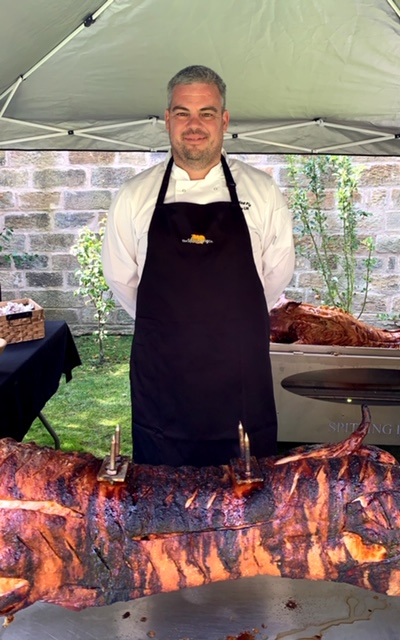 Alistair let us know about his experiences with Hog Roast Odcombe…
One of his most recent events was quite memorable! He had the challenge of serving food from a pontoon in Portishead Marina. To ensure social distancing was maintained, individual tender boats would come up to the pontoon to receive their food and then head back out. Alistair was impressed with how smoothly it ran and how stable the pontoon was when the boats arrived! What an exciting experience! 
Being in Somerset means Alistair gets to cater at some amazing countryside venues with rustic and historical characteristics surrounded by beautiful scenery! The best places he likes to cater at are venues with a Seaview, nothing beats the atmosphere of a warm day with sunshine blazing, drinks in hand and enjoying flavoursome food looking out to sea. 
If Alistair was a customer, he would choose the classic hog roast menu. He was SO excited when he took on Hog Roast Odcombe that he would be serving his favourite thing on the planet, spreading his happiness with those who also appreciate how incredibly wonderful hog roasts are! The tender and juicy pulled pork is mouth-watering, complimented wonderfully with the tasty stuffing in a soft or crusty roll with a dash of apple sauce to complete it. Not forgetting the best part … crunchy crackling! For Alistair, this meal is perfection, and it certainly sounds it! 
Nevertheless, Alistair thoroughly enjoys serving the perfect hog roast roll with additional salads such as coleslaw, seasonal mixed leaves and tomato and mozzarella. Not only does it add more delicious food, but it also provides a medley of colours to the plates and options as people like having choices. 
Whatever Alistair does he excels at, for instance by the age of 16 he was a professional golf player! Now he excels at creating scrumptious and beautiful spreads of food, guaranteed to be indulged by your guests, why not experience his amazing food and service for yourself?