Last Sunday morning we were out bright and early with Hog Roast Bridgwater to cater for a christening. Christenings are becoming a firm favourite of ours lately and becoming very popular. When we arrived we were met by Lois and Steve and they were telling us about Charlie their little baby boy who was four months old and we all knew they were very proud first time parents. They left to go to the church and we began to do what we do best cook!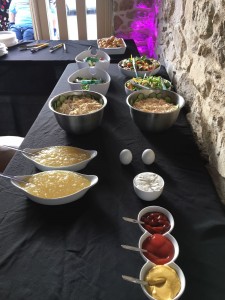 We placed a large piece of beef on the machine all our meats come from the best supplier in the UK this guy has won awards for his meats. Our machines do all the hard work and as the meat cooked we began to make the sides we made a crunchy green salad, creamy coleslaw and a huge assortment of dips using lots of different flavours we love to experiment and introduce new flavours into our menu and it doesn't go unnoticed! We diced some potatoes and covered them in herbs and spices and made a tasty yogurt and herb dressing. The beef was coming along nicely as the Christening party arrived back home and they were all in shock when they looked at the Hog Roast Bridgwater food. The beef was cooked to perfection and our chef sliced the meat and placed it on a large platter the guests took no time at all filling up their plates and were all coming up to us saying how delicious the food was.
Lois said she was so grateful to us for taking care of everything and asked how we managed to make the beef so tender? We said there was no secret at all it was with the help of our state of the art hog roasting machines that does the work for us. Charlie was a little angel the whole day just lay in his pram not a peep out of him. As we left some of the guests came over and asked if we could cater for them? We handed them a card and said not a problem at all. The Christening party were full and happy and we congratulated each other on another good job for Hog Roast Bridgwater.