With over thirty years in the business we have built up a fabulous reputation with customers we believe that quality is everything and we always serve the very best to all our customers at Hog Roast Williton. We travel all across the UK and distance is never a problem. We have customers who come back to us time and time again and last weekend we catered for one of those long-standing customers.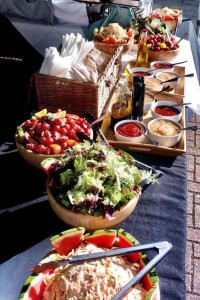 Tim has been with us from the very start he has his own company and he always books us for corporate evens and functions. We were at his offices catering for a business lunch for his suppliers with a Hog Roast Williton. Upon arrival we chatted with Tim for a little while and then began to do our magic! We set up the machine we placed a huge piece of beef on the machine and within minutes the room smelt fantastic! As the meat cooked we then made some salad bowls we filled lots of bowls with lettuce leaves, tomatoes, spring onion and cucumber. We placed a huge cheese platter at the head of the table filled with every cheese imaginable and even our mouths were watering at the smell of the beef cooking!
As the party arrived they took their seats and watched in amazement as our chef carved the beef it cut like butter so moist and tender and everyone was keen to have the first taste! We handed out the warm meat and guests helped themselves to the salads and rolls. Our staff made sure everyone had enough to eat and the guests were happily chatting away with them telling them that they were ever so impressed and saying we had done a fantastic job.
We had a guest call us over and asked if we would be able to come and cater for a birthday party he was planning for his daughters 21st with Hog Roast Williton? We said we would love to and we gave him a card showing our website, phone number and what we do and then we had other guests asking the same; most of our work comes from guests at events and this pleases us so much and we feel it is the biggest compliment of all.