While Hog Roast Bridgwater is famous for our signature hog and spit roasts, you may be surprised to find out that we also provide all kinds of other dishes to suit various needs too. Whether you need alternative options for special diets like vegan, vegetarian or gluten-free, or different meat options served instead of hog and spit roasts, or additional food served to suit bigger appetites or multiple course menus, we've got you covered, regardless of the formality of the special occasion that you're planning or the number of guests that you're inviting. Whatever your catering needs, Hog Roast Bridgwater will impress you and your guests no end, from start to finish, from a simple menu with one main dish to posh nosh and canapés and everything in-between.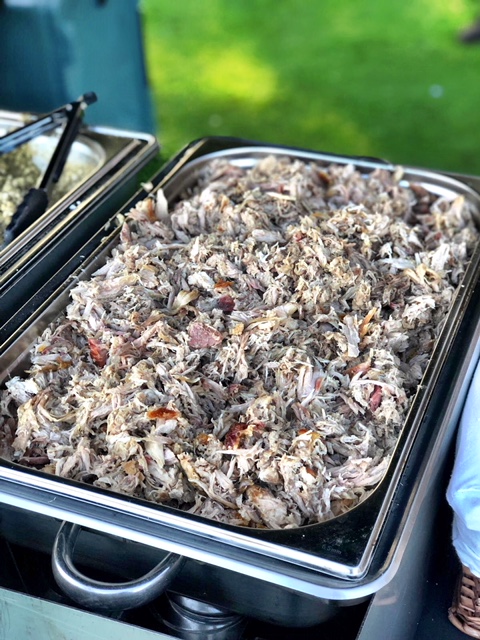 We recently catered a private party for Doug, who was celebrating his 50th birthday with friends and family members at home in his back garden. We're often asked to cater at our customer's homes and as long as there's enough space we can easily do so and we can even cook indoors if you need, if there's enough ventilation. For this milestone occasion, Doug asked us to make our amazingly moreish pigs in buns for him and most of his 25 guests and to also provide some extra food, including two fresh salads and our spicy sweet potato wedges. The salads and wedges would also be suitable for his vegetarian guests but Doug also asked us that we grill our veggie skewers for their main course.  

On the afternoon of the party, our Hog Roast Bridgwater chef and catering assistant set up our equipment in Doug's back garden and prepared the meat to be roasted. It takes hours on end to roast a hog to perfection from scratch and that's why we were there early afternoon, even though our food service would be from 7pm.

Later on in the day, while the hog was sizzling away, we prepared the wedges and set them cooking, prepared the garden-fresh salads and grilled the veggie skewers, which consisted of halloumi, mushrooms, tomatoes, peppers, red onion and courgette. Just before 7pm, everyone arrived to a lovely feast and our chef got the carving knives out, ready to slice up the hog.