The Hog Roast Bridgwater team were busy flexing our corporate catering muscles recently when we were hired by Michelle at Balfour Beatty to freshly prepare a flavour packed and varied lunch for 150 diners!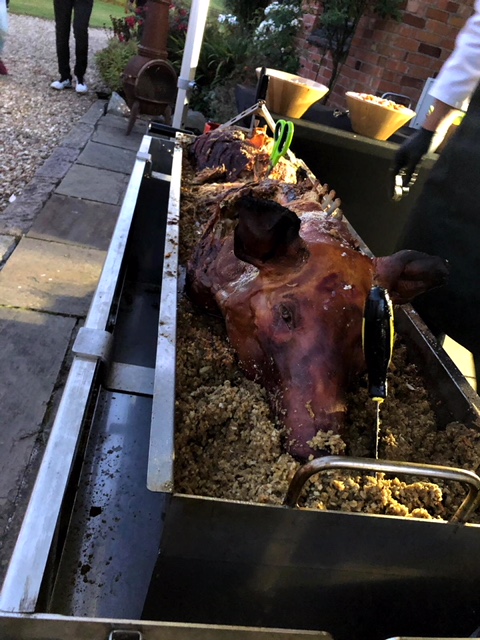 Catering manager Lee and his intrepid team arrived on-site bright and early to allow plenty of time for our trademark hog roast to be slow roasted to perfection whilst we spent several hours multi-tasking to the max to make the rest of Michelle's chosen menu from scratch using only the best locally sourced ingredients! As well as pleasing the hog roast fans at the company with our superior, ethically-reared pork, we were also asked to provide tasty vegetarian and vegan alternatives for 50 diners! This included grilled veggie and halloumi skewers, along with a dairy free option served with hummus, and to ensure we catered for the full range of dietary needs for the Balfour Beatty brigade, we made sure we provided plenty of gluten-free bread rolls too!
Hog Roast Bridgwater's crowd pleasing feast was served bang on time at 12.30, with a mixed salad and vegan friendly coleslaw for everyone to tuck into as well. We always strive to make our buffets as sociable as they are tasty, and we love it when everyone can enjoy some great food together, regardless of their dietary requirements!
As the 150 diners started to fill their plates, it was clear that we had achieved that and we got some great feedback about our vegan-free coleslaw from the vegans and non-vegans alike, as well as about the rest of the spread! It was great to see everyone having a break from work, chatting and having a good time together whilst they enjoyed our well thought out menu and fabulous ingredients!
With the lunch service over and everyone leaving with empty plates and full bellies, Michelle thanked us for our hard work, great food and efficient service and she was really glad she had chosen us to do the honours because Hog Roast Bridgwater's versatile menu and fresh food had gone down a storm with everyone at Balfour Beatty!