Hog Roast Cotford St Luke's latest event was an enigmatic murder mystery event. The client was event organiser Mo and he wanted a fun buffet for the 40 lucky guests, the buffet was to have a long serving time so there was never too many people at the buffet table at one time.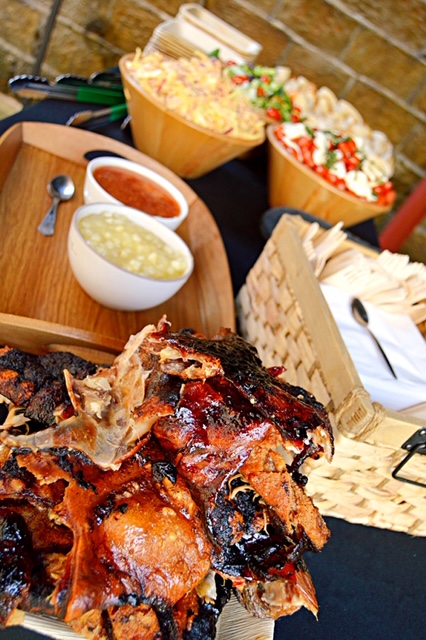 Client Mo worked with the Hog Roast Cotford St Luke team to come up with a suitably stupendous buffet for the crime themed event. The catering package that was concocted by Mo and the team included the use of disposable crockery and cutlery, which would be disposed of safely and responsibly by the team after they had been used at the end of the event.
Chef Alistair from the Hog Roast Cotford St Luke team was tasked with creating the whole buffet for the guests from scratch. He arrived at the large barn venue several hours before the 6-7:30pm serving time.
The delicious evening buffet was full of lots of tasty dishes for the guests to tuck into. Client Mo was very keen that there should be a Classic Hog Roast, complete with crispy crackling, homemade sage and onion stuffing, apple sauce and a selection of soft gluten free rolls. Also on offer at the buffet was a platter of grilled vegetable skewers, grilled vegetable and halloumi skewers and vegan BBQ pulled jackfruit. That wasn't all though! As well as a large platter of piping hot jacket potatoes, there was also Chefs choice of 3 fresh salads and all sorts of dips and sauces for the guests to enjoy.
The buffet kicked off at 6pm on the dot and the crime solving murder mystery guests ate with gusto. It was a meal that gave the hard at work guests enough energy to continue with their evening of crime solving.
After the meal had been thoroughly enjoyed by the guests, Chef Alistair quietly tidied away all the catering equipment and gathered the rubbish to dispose of. He discreetly left the venue and left the guests and client Mo to continue with their evening entertainment.
The team received a glowing review from Mo for their hard work at the murder mystery event. It was a job very well done.