Your son and his family coming home for a long overdue visit after 2 years in Australia, is definitely an occasion worth celebrating. His parents Alan and Sue, excited to see their son and grand-kids after so long, wanted to organise a get together for all the family and after being recommended by some friends from their local pub, they decided to hire Hog Roast Doniford to do the catering. A wise choice, as always!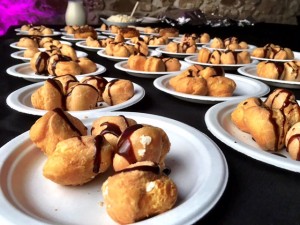 They decided their son was probably sick of all those barbeques on the beach (if that's possible!) and thought a traditional hog roast in the beer garden of their local, would be the perfect welcome home to remind him what he's missing back in Blighty. They wanted to go all out and opted for one of our more elaborate party menus, with a selection of our exquisite handmade canapes, including gourmet sausages, tiger prawns and smoked salmon, followed by slow -roasted pork and side salads, finished off with our decadent chocolate torte and profiteroles.
With our fine family-friendly feast to provide, the Hog Roast Doniford chef and his skilled sidekicks wasted no time in getting the preparations underway in the party's designated outdoor space. As we operate with minimal fuss and maximum efficiency, our catering team caused no disruption to the normal operations in the pub as we spent the day painstakingly preparing everything to perfection.
The chef had his carving knife at the ready as everyone started to arrive, having worked his magic and made sure the succulent hog roast was ready right on the dot. Meanwhile our canape crew were on hand with their mini works of art to get the party started. All signs of jet lag disappeared as the guests of honour marvelled at the meal that awaited them and even with all the tears, hugging and interceptions by various aunties and cousins, they managed to devour everything that was put in front of them.
It was a very emotional day for Alan and Sue and they couldn't thank Hog Roast Doniford enough for the excellent food and atmosphere we provided.  It's always nice to see a family reunited and we were glad to be a part of it!