You may know Hog Roast Monksilver as a well-known party and event caterer or as a company that hires out machines so that you can have a DIY hog or spit roast. But did you know that we actually manufacture those machines? We have a factory in the northwest of England, where we make top-of-the-range hog roast machines that we designed ourselves and you're welcome to make an appointment with us to talk about our range and even see them being built in person.
We have several hog roast machines in our range, including the Platinum, Hogmaster, Hogmaster Pro, Titan, and Olympian. Our equipment is world-class and with this in mind, we even deliver around the world if you can't make it to see us, as you can order nationally or internationally from our website. You may be a catering professional who wants to evolve your business into including hog roasts, spit roasts or barbecues, and our machines can cover all three, as we have attachments that make them extremely versatile. You may even be a domestic cook who wants to use one of our machines to cook at home and you can cook an entire meal in one go, with the meat roasting above and the vegetables and potatoes cooking in the trays underneath. But you don't only have to use it at home, as our machines can be ultra-portable; if you choose a steering mechanism with yours, you can easily move it to a friend's house, the park or the beach – wherever you want to cook, you can take it with you.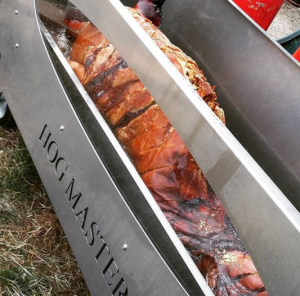 Our new customer Denny, who has a wedding catering business, made an appointment to see our showroom and have a tour around the factory, and we showed him a Titan machine being built. He asked us lots of questions and seemed eager to start using hog roasting in his work. If you've never used a Hog Roast Monksilver machine before, we recommend that you hire one from us first, to see how easy they are to use. Denny hired one from us for the week ahead, so we eagerly await his opinion and look forward to selling him his own equipment soon.