Hilperton is where we had our last event, and oh my, what a beautiful community. Hog roast Hilperton was catering for a nearby Rugby Club for 60 guests.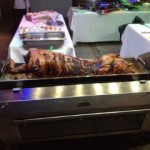 It was a beautiful Friday in September and we had been asked to cater our very popular menu one- which consists of a succulent slowly roasted free range pig along with apple sauce, sage and onion stuffing and of course our professionally presented golden crackling. The event got underway quickly and the manager had organized a couple of rugby games for the adults to get stuck into, the whole day went absolutely brilliant, after the match came to and end we finally got to  show the guests what hog roast Hilperton do best. With the pig being slowly roasted for the past 6 hours on site, I think it was time to show everyone what the big fuss was about.
We lifted the pig from our spitting pig hog roast machine and placed it onto our carving tray, the look on everyone's faces when they saw it was absolutely priceless. As people tucked into their filled meaty roll  that hog roast Hilperton had been preparing the only noise we could hear throughout the club was "mmmm" and that wasn't at all a surprise for us. The night closed in and everybody was so grateful for what we have done for them, hog roast Hilperton would love to cater for Caroline again.