Here at Hog Roast Salisbury, transforming our clients' dreams into reality is our passion, and recently, we had the honour of helping Gordon bring his vision to life in a spectacular 1940s themed military party. Held at the picturesque Lower Prestwood Farm, Gordon's celebration was not just a birthday bash; it was a trip back in time, complete with era-appropriate vehicles and, yes, tanks!
Gordon's attention to detail was impressive. He envisioned a gathering reminiscent of the 1940s, where every aspect, from attire to ambience, reflected the wartime era. With 180 enthusiastic guests who fully embraced the theme, the event buzzed with excitement and nostalgia.
When it came to the feast, however, Gordon knew he wanted to elevate his guests' culinary experience beyond the usual wartime fare. Deciding against plain Spam sandwiches – however authentic they may be – he instead turned to Hog Roast Salisbury for a more enticing menu. Opting for our Menu 3, Gordon treated his guests to a hog roast buffet extravaganza.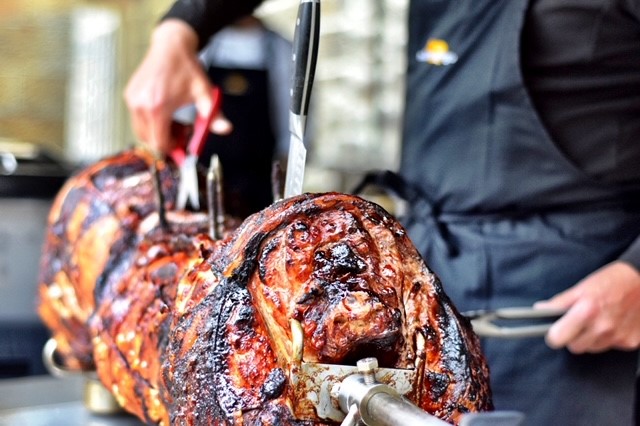 Succulent pulled pork, crispy crackling, aromatic sage and onion stuffing, zesty coleslaw, and vibrant salads, accompanied by herb-dressed new potatoes, provided an explosion of flavours, which blew the guests away. Gluten-free rolls and wraps were also on the menu, giving guests the chance to play around with various flavour combos.
For our non-meat-eating guests, Hog Roast Salisbury whipped up delectable grilled vegetable and halloumi kebabs. These kebabs weren't just an alternative; they were a culinary delight in their own right, showcasing the diversity and creativity of our offerings.
Behind the scenes, our catering manager, Alistair, took charge with military precision, ensuring that every guest was served promptly and with a smile. His expertise and dedication to excellence ensured that the hungry masses were fed to satisfaction.
The joy in executing this unique event was palpable. Hog Roast Salisbury didn't just provide food; we became a part of Gordon's vision, adding flavour and flair to an already memorable day. Seeing Gordon's dream come to life, with guests laughing, enjoying delicious food, and marvelling at the thematic perfection, was a testament to the power of collaboration and creativity.